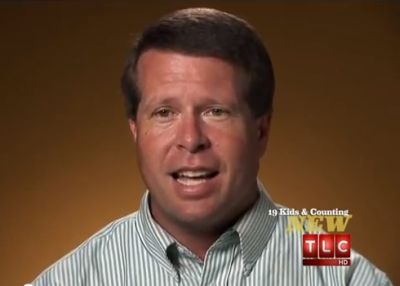 By Holly Rasmussen
Jim Bob Duggar is shaking the haters off. (Well, probably not actually shaking because that's too close to dancing and we all know that dancing is the gateway to eternal damnation.)
The patriarch for the TLC show 19 Kids and Counting has spoken out about the petition to cancel his show. Over 184,000 people have signed a change.org petition that calls on TLC to cancel the show because the Duggars' actions "spread hatred."
The petition claims the conservative reality TV family has "been using their fame to promote discriminating, hate and fear-mongering against gays and transgendered people."
However, Jim Bob says he's not worried about losing his TLC meal ticket.
"They won't succeed," Jim Bob told a group of students at Hannibal-LaGrange University on November 21. (Apparently he's allowed to speak at colleges, but none of his kids are allowed to actually attend one. They might learn about evolution.)
Jim Bob said TLC won't cancel his show because it's the number one show on the network. He also said the "small group of protesters" (I guess any number can be considered a small number when you have as many children as he does) are just giving his show more exposure.
He's probably right about TLC not cancelling them. In fact, the show is so popular that another network, UpTV, recently announced that it would be premiering Bringing Up Bates, a reality show similar show to '19 Kids and Counting' that follows the Duggar family's friends, The Bates.
It will take more than controversy to get a network to cancel a popular reality show. Remember the whole Duck Dynasty debacle on A&E? The network suspended one of the characters for his discriminatory remarks, but then just let him return to the show as soon as people starting making a fuss. As long as there are middle-aged football moms in Arkansas watching this stuff, they'll continue to play it.
The protestors however, are not buying Jim Bob's proclamation that the Duggars "love everybody" even those that live their lives in a way they don't agree with. The protestors cite Michelle Duggar's recent robo-call to voters in her home state of Arkansas against an anti-discrimination bill and oldest son Josh Duggar's work with The Family Research Council Action as examples of their discriminatory behavior.
While Jim Bob said he isn't worried, he may need to be extra-cautious considering there are so many children in his family. The University reportedly had to hire extra security because they had received death threats involving the super-sized family.
During their speech, Jim Bob and Michelle both defended their decision to include their faith in the reality show.
"We decided maybe this show was an opportunity to share with the world that children are a blessing," Michelle said. "We told them we wouldn't do it if they edited out our faith."
The petition against the Duggars' show is still being signed, but it seems neither the Duggars nor TLC have any plans to stop the show any time soon.
(Photo: TLC)