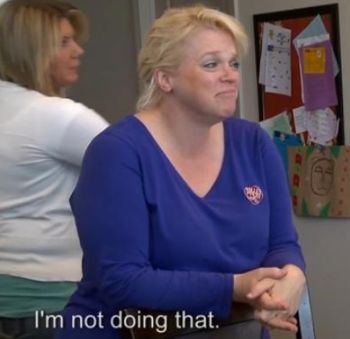 The new season of Sister Wives premieres tonight, and, judging by this new clip released to Zap2it, it seems that the show is finally going to address the fact that Kody Brown's second wife, Janelle, basically can't stand anyone in her family due to their constant need for attention and the spotlight!
In the new clip, Kody and the other wives, Robyn, Christine and Meri, are trying to convince Janelle to do some sort of ridiculous song-and-dance number. (Please, no more Brown dance routines! The Ashley is still unable to sleep through the night without seeing that horrible Brown family flashmob dance routine from last season in her nightmares!)
Janelle, who is much more humble than her husband and sister wives, refuses to take part in whatever God-forsaken skit her family is planning, but of course, her fame-lovin' family is unable to accept Janelle's personal boundaries (as per usual) and continue to try to convince her to make a fool out of herself with them.
The incident makes Janelle reflect (finally on-camera!) how embarrassing it is to go out in public with people who are constantly looking for attention!
"This incidence brought to the surface how many times I've been out in public with them and just been so mortified about how loud they're being or how outgoing they're being," Janelle said.
Annoying, Janelle. The word you are looking for to describe your fame-hungry family is "annoying."
She added that she was nearly brought to tears when her family continued to pressure her into doing something she wasn't comfortable with.
"I left because I'm not going to cry in front of them," she tells the camera.
Run, Janelle, run! Get out of this mess and away from these nerve-grating people!
Watch the full clip here: