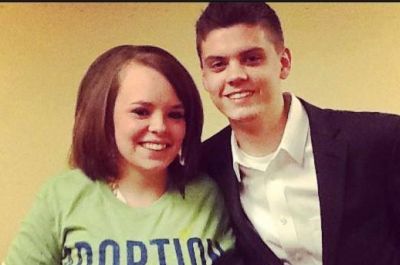 UPDATE: Catelynn and Tyler have confirmed The Ashley's report! They are getting married on August 22 at Castle Farms in Charlevoix, Michigan.
Teen Mom stars Tyler Baltierra and Catelynn Lowell will certainly have a lot to celebrate in 2015: their daughter, Nova, was born earlier this week, their reality show is coming back for a new season and they are getting married! While Tyler and Catelynn have been forthcoming about their wedding happening sometime this year, The Ashley can exclusively reveal when we can expect to see the longtime lovers finally walk down the aisle!
According to a very good show source, Catelynn and Tyler's daughter will be about seven months old when her parents say "I do!" The source tells The Ashley that the 'Teen Mom' stars  have set a date in August for their wedding! (The couple had hoped to get married in the spring, but have decided to do it this summer instead.)
This is not the first time Cate and Ty have planned to get married. They were originally supposed get hitched in July 2013, but called off the wedding after Tyler revealed on Couples Therapy that he wasn't ready to get married. (While taping the 'Couples Therapy All-Star Reunion" special in August, Tyler said that he and Catelynn had felt pressured by their managers and producers to get married, which is one of the reasons they called off the first wedding.)
The Ashley has no more wedding details at this time, except that it will take place in August in Northern Michigan. (This past October, Catelynn and Tyler excitedly revealed that they were planning the wedding and that a bakery in Charlevoix, Michigan, would be doing their wedding cake.) This means that the wedding will not be included in the upcoming fifth season of 'Teen Mom.' However, as The Ashley previously reported, the likelihood of 'Teen Mom' getting picked up for a sixth season is good, so we may get to watch Catelynn and Tyler say "I do" after all!
Catelynn and Tyler have been together since middle school, and engaged since January 2010. For Christmas this year, Tyler gifted Catelynn with a brand-new engagement ring!
MTV better hook us 'Teen Mom' fans up with a Catelynn and Tyler Wedding Special!
(Photo: Twitter)