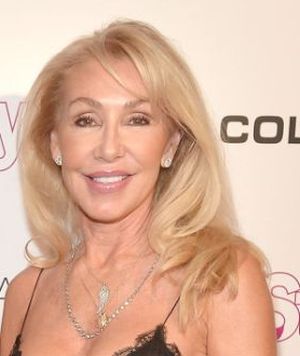 Linda Thompson, the woman that was married to Bruce Jenner before Kris, took to her Instagram right before the New Year to give her followers some advice for 2015–but her post seemed to be aimed at the fame-loving Kardashian clan! Linda, who is the mother of Brandon and Brody Jenner, pointedly wrote about people that are "boastful" and have a "distorted reality."
To be fair, Linda may not have had anyone in particular in mind when she wrote this but…it certainly sounds like it was meant for Kim, Kris, Bruce and the gang.
Here's what Linda posted:
"As we enter into a new year, may we be mindful that money cannot buy dignity, respect, class, happiness, moral fiber or true character." (Kim Kardashian certainly proved this statement true with her infamous Paper magazine photoshoot, eh?)
Linda's post continued:
"May we aspire to be kinder, more humble, generous of spirit, forgiving, understanding, and loving. May we shy away from all that is ostentatious, boastful, toxic, dark and ultimately unfulfilling. May we realize that simplicity and normalcy is desirable over the seeking of fame, fortune and distorted reality."
Hmmmm…
"May we experience internal peace and translate that into the world. May we know contentment, joy, tolerance and patience. May we all strive to become better human spirits and trust the beauty and sanctity of life. God bless you all in 2015 and beyond."
When The Ashley interviewed Linda in October at the Life & Style Weekly 10 Year Anniversary party, Linda talked about her ex-husband and his famous family, and revealed that she is not close to any of then.
"To be totally honest, I don't know anything about those people!" Linda told The Ashley. "People just assume that we all just spend Thanksgiving together or something and that's just not the case…[Brandon and Brody] really didn't grow up knowing [the Kardashians] very well either. I don't really speak to Bruce. Even when the boys were little I rarely spoke to him, so not a lot has changed!"
Even if Linda's post wasn't aimed at the Kardashians, it wouldn't hurt them to take her advice to heart.