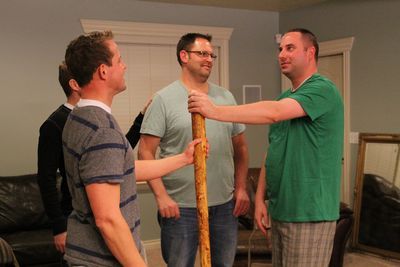 By Holly Rasmussen
TLC is no stranger to pushing boundaries, but they may have pushed too far this time. A few weeks ago, The Ashley gave you a sneak peek of My Husband's Not Gay, a documentary the station will be airing on January 11.
It features four men that state that they are sexually attracted to other men, but are choosing not to act on these feelings. The men cite their Mormon faith as their reasons for choosing to marry women. (All of the men claim that they are also attracted to their wives.)
While TLC was surely expecting (and probably hoping) that this show would cause controversy, it probably did not expect the special to be met with such a negative reaction from some of the public.
A Change.org petition has already been put up to request that TLC not air the show. More than 75,000 people have signed the petition, which claims that TLC is sending a harmful message by saying gay people can and should change who they love to be accepted in their faith.
"I started this petition because these men deserve compassion and acceptance," wrote Josh Saunders. "Instead, TLC is presenting their lives as entertainment, and sending the dangerous message that being gay is something that can and ought to be changed. No young person should ever be told to be ashamed of who they are — especially by a television network."
GLAAD President and CEO Sarah Kate Ellis has also spoken out about 'My Husband Is Not Gay.'
"This show is downright irresponsible," she wrote. "No one can change who they love, and, more importantly, no one should have to. By investing in this dangerous programming, TLC is putting countless young LGBT people in harm's way."
In an exclusive statement to The Ashley, a network spokesperson from TLC justified the airing of 'My Husband's Not Gay,' stating that it is simply televising a real situation.
TLC has long shared compelling stories about real people and different ways of life, without judgment. The individuals featured in this one-hour special reveal the decisions they have made, and speak only for themselves.
In his petition, Josh uses his own personal experience with the "Pray the Gay" away theory to shed light on why it is dangerous for shows like this to be on the air.
"As a devout Christian, I understand the important role faith plays in the lives of the show's main characters," he wrote. "I, too, did everything possible to hide who I am… I was promised I could change, and told that I should 'pray the gay away.' In the end, the only thing that this so-called 'therapy' did was stoke a growing despair that maybe my life wasn't worth living."
One commenter on the petition cited the recent suicide of teenager Leelah Alcorn as evidence of how dangerous this outlook can be. Leelah was born male but identified as female. She referenced her family's refusal to accept her as a female in her suicide note.
Should the special air as scheduled on January 11? Sound off in the comments below!
Photo: Discovery Press)