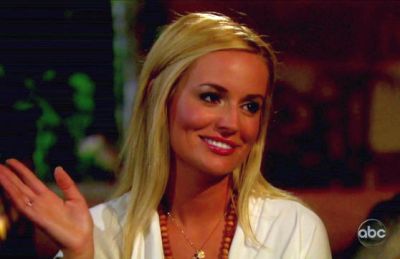 First comes love, then comes…two made-for-TV engagements…then comes marriage…then comes baby in the baby carriage!
Emily Maynard, a former star of The Bachelorette and The Bachelor, announced today that she and her new husband, Tyler Johnson, are expecting a baby! After confirming it to Us Weekly, Emily posted a photo of her baby bump to her Instagram account, joking that the tiny mound was the result of "Too much pizza."
The baby is due in July, according to Emily's post.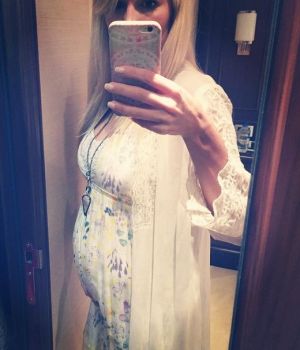 The former Bachelorette star, who has been raising her nine-year-old daughter Ricki alone since Ricki's father's death, married Tyler last June at a farm in South Carolina. It was her fourth attempt at saying "I do." She was previously engaged to Ricki's father, Ricky Hendrick, who died in a tragic plane crash before their daughter was born.
She was also engaged to Brad Womack, who chose her at the end of his season of 'The Bachelor.' When that didn't work out, Emily became 'The Bachelorette.' Unfortunately, her engagement to her choice, Jef Holm, ended shortly after filming ended. (Wanna see her first three engagement rings?! Click here!)
When she began dating Tyler after her breakup with Jef, she decided to keep things very private. In fact, she went to great lengths to keep their wedding details private until the big day.
"For so long I felt so embarrassed and ashamed about that TV stuff," she told People after the wedding. "The grace that my faith has given me to wipe that all away and not find worth in that and find it through God, Tyler has been a great example of that for me."
(Photo: ABC, Instagram)