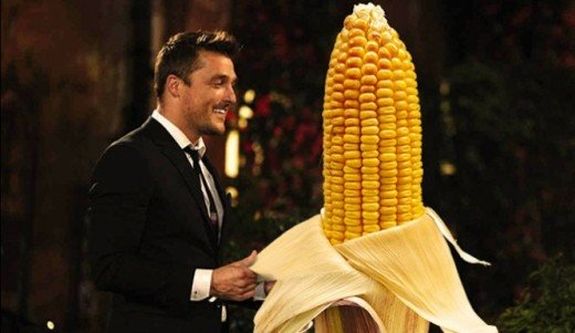 It's time for another season of The Bachelor and, after last season's disastrous "Juan Sleazo" season, the show's producers are hoping that down-home farmer Chris Soules will not only deliver the All-American love story everyone wants, but also plenty of opportunities to use his farm life for jokes.
The episode kicks off with a red carpet full of "fans" (aka middle-aged ladies who somehow convinced some casting company that they're crazy enough about the show to be let in to scream and cheer when a reject like Chris Bukowksi strides down the red carpet.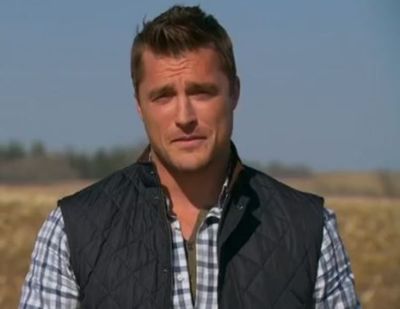 Anyway, we get a taste of Chris' Iowan life. He cruises in on a motorcycle and tells us he feels like the luckiest man in the world. Lucky, but still eyeless, we see. (Seriously, WHERE. ARE. HIS. EYES!?)
They get plenty of footage of Chris hee-hawing around his farm: riding his tractor, having a farm-fresh meal with his white-bread family, and shoveling some sort of seed-like product. (Give me a break, I grew up in Southern California, I have no idea what any of this crap is).
Chris tells us that Iowa is where he plans to stay, so any of these girls with aspirations of Hollywood stardom and getting a Dancing with the Stars contract should mosey on by and leave him alone.
Chris has been working out to look hot for his milkmaids (naturally Cody, the boulder-pressing meathead from Bachelor in Paradise, is acting as his trainer.) He's getting in shape by lifting hay barrels (They couldn't give him weights? It had to be hay?)
Sigh. It's gonna be a really, really long season.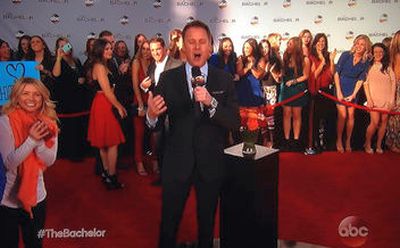 We go back to the red carpet to speak to "one of the most beloved couples" (i.e. one of the only couples that lasted), Sean and Catherine. Sean talks about how great their life is, and Catherine (who is wearing some sort of unfortunate cape-like frock), tells us that she and Sean are "practicing" to have kids. Oh.Ew. Just when I finally got that whole "Honeymoon Cam" from the wedding special out of my head.
They keep talking about crap that no one cares about, so I just keep staring at the unfortunate cape-like frock that Catherine's wearing. Oh, honey…who lied to you!?
In the background, every 'Bachelor' reject that's ever been on the show is and taking selfies with each other. Fabulous.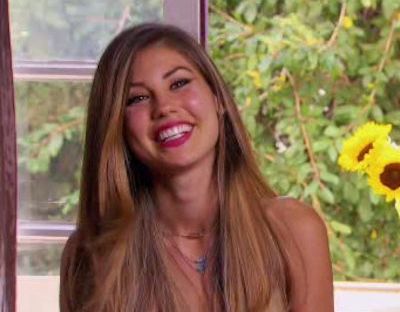 Next we meet the women. The first girl we meet is Britt, a waitress from Hollywood. The Ashley has never met Britt, but she can already tell you that she is not for Chris. She seems to love attention…and she wears fake eyelashes while hiking. Who does that?
There is also Jillian, a news producer gym rat from Washington DC. I'm sure she'll love reporting on the tractor pull being in town or the pie-eating contest winners in Iowa.
Amanda is a ballet instructor from Illinois. She lives a home with her "mam" (gotta love that Illinois accent!) and doesn't like cooking or cleaning or paying bills. Super.
There's also Whitney, a fertility nurse that seems sweet. However, she has the voice of one of the chipmunks, so that will get old very soon.
We meet Mackenzie, the token mom on the show. She looks about 15 (but is actually 21). Her son looks pretty old– did she get rejected from 16 and Pregnant a few years ago? Plus, she named her son Kale (like the creepy lettuce that they always try to sneak into salads to make them healthy.) Mackenzie is looking for a man who will take care of her little Lettuce Leaf.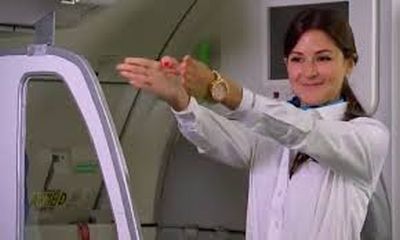 We meet a girl named Alissa who is a flight attendant and whom…The Ashley kinda wants to see be thrown off a plane. She gives what is possibly the cheesiest intro ever. She's handing out roses on her flight and talking about the "right reasons." (Meanwhile, the few people on the plane all look like they want to strangle her with their oxygen mask strings.)
Kelsey is a 28-year-old widow, whose husband died a year ago. She's the first widow to ever appear on the show, so the producers will definitely milk her situation for all it's worth.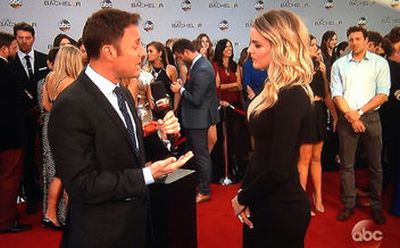 We go back to the red carpet to talk to Nikki, who has freed herself from the paws of Juan Pablo. Chris Harrison brings up how creepy and awkward the After the Final Rose special was on their season. She said she acted like a Stepford Wife because she didn't want Juan Pablo to be the only dud onscreen. She says that she and Juan Pablo (but mostly Juan Pablo) were misunderstood. She says they tried really hard to make things work, but she got tired of getting snubbed by Juan Sleazo. (She claims she was JP's "seventh priority" after his love of the limelight—ouch!)
She tells us that she wasn't ready for her love life to "be broadcasted on national television."
UMMMM?! Then probably don't go on a dating show, genius.
Finally, it's time to get the damn episode started. (Wait—aren't you guys going to wheel out Trista and Ryan for some more filler?!)
We start in Los Angeles, where Chris is trying on suits (SERIOUSLY—am I really spending my night watching this crap?) Can we get to the drunken ho-bags throwing themselves at Chris please?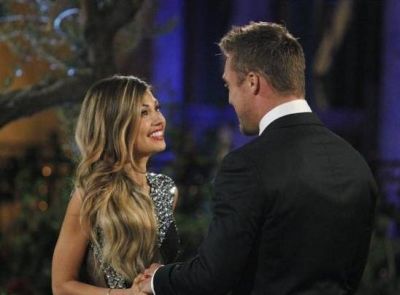 He arrives at his house, which is right next to the Bachelor Mansion. The first limo starts heading to the Mansion, just as Chris makes his way over. The first car of screaming girls arrives and the first girl (which is Britt, the fake eyelash-wearing waitress) gets out. She starts bawling and gets snot all over Chris' shoulder. I'm sure she's completely emotionally stable.
Next is fertility nurse Whitney who keeps giving Chris hugs. Why not just pull your dress up and flash him your goods? You know you're gonna do it anyway.
Next we meet Megan, a makeup artist from Nashville, and Ashley I., who looks like Kat Von D sans the tattoos.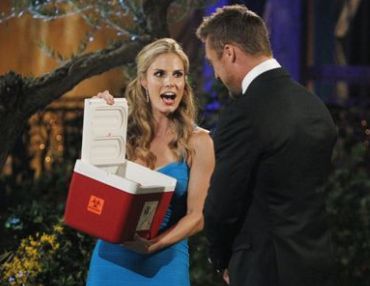 The next limo arrives and it, too, is full of squealing suitors for Chris. There's Trina, who is doing her best to work that side ponytail like it's 1991! There's Reegan, who arrives with a cooler. She's a human tissue salesman, so somehow that's supposed to explain why she showed up with a fake (but very realistic-looking) human heart in it. Everyone knows that when you're trying to get yourself a man, you should always bring body parts.
There's cowgirl Tara, who shows up in jean shorts and cowboy boots. She says she's just not into wearing evening gowns, but her casual look seems to piss off the other girls. Trina says that she can't believe someone showed up in that outfit and is doing her best to look surprised. Um, biotch, you are sporting a side ponytail. You have little room to talk.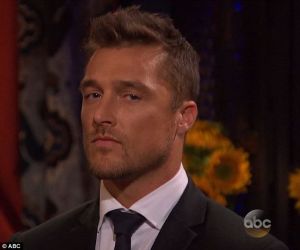 Later, Tara slips on a dress and gets back into the limo to see if Chris will notice that she's the same girl that just arrived. He winks (as best as he can with his half-eyes) and notices right away.
The next girl out of the limo has the driver give Chris a letter. They cut to commercial but I'm hoping it's something X-rated that they make him read aloud. That's about the only thing that could save this yawn-fest at this point.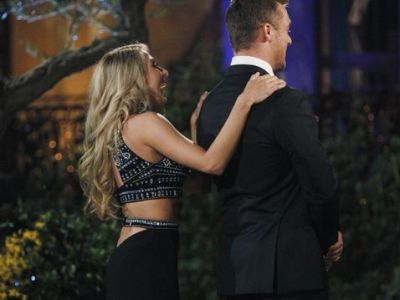 Unfortunately, it's just a girl that wants him to close his eyes before she comes out. (That obviously won't be hard for Chris). The girl turns out to be Amanda, the ballet dancer. She tells Chris she doesn't want him to know what she looks like so that she can be his secret admirer. Oh dear God.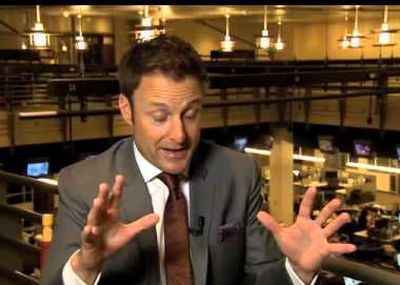 There's dance instructor Kaitlyn. She's quite classy; she tells him that he can plow the f*ck out of her field any day. (I'm sure her daddy is so, so proud.)
Chris decides to go into the cocktail party, even though there are only 15 girls there. Kaitlyn offers to tell a joke, and Chris basically verbally bitchslaps her and tells her to pipe down so he can talk. (That's literally the best part of the entire episode so far.) She eventually gets to tell her joke, which turns out to dirty and stupid.
The girls are trying to figure out if there are going to be more girls joining them. In the meantime, however, Chris starts taking girls aside to get to know them. He talks to Britt first, and she spews some corny lines about being his safe place, and then says she wants to move to a small town…what a coincidence. Chris seems to like her "purty" face, so there's a pretty good chance she'll stay.
Back in the studio, Chris H. interviews six real farmers' wives from Chris' Iowa hometown. All six have the same haircut and are wearing the same necklace. Apparently, there aren't many accessory choices down at the Wal-Mart in Iowa.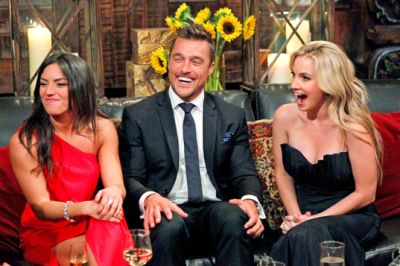 At the mansion, Chris H. arrives with the first impression rose. Whitney is outside with Chris and asks him if he inseminates hogs back on his farm. Now that's a pick-up line that will work every time! Talking about getting pigs pregnant makes all the boys hot 'n' heavy.
Chris goes to find his "secret admirer." It's Amanda, who we now realize has a bad case of "crazy eyes." Every time she talks her eyes get bigger and bigger. He has no eyes, and Amanda has too much eye. Their kids could have a normal amount of eyeball.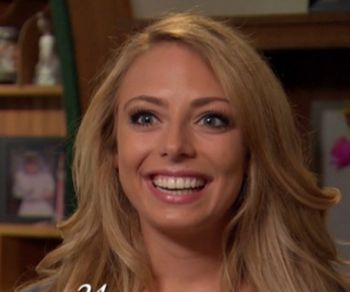 After he's gotten his fill of Amanda's bug eyes, Chris heads back outside and Chris H. tells him that there are 15 more girls arriving for him.
The first girl out of the third limo is Samantha, a fashion designer from LA. (If she moves to Iowa, she can help design some new sweat suits to sell at the Wal-Mart!) All the existing girls act all bitchy toward Samantha for no apparent reason. There's Michelle from Utah and Juelia from Oregon. (The Ashley is hoping that chick goes home—she can not deal with writing that horribly misspelled name out all season.)
"Bring on the weirdos!" yells one of the girls.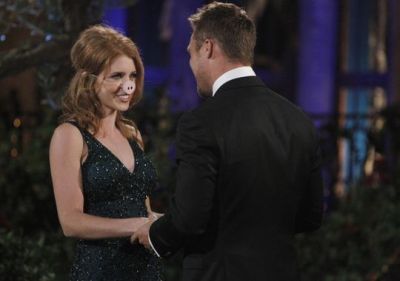 Nicole arrives wearing a pig nose. As you do. Hopefully Whitney doesn't try to inseminate Nicole during the cocktail party.
The next girl out of the limo is Brittany, who arrives looking like she taped a few doilies together to cover her goodies. Next is Carly, who comes dressed like Sandy from Grease and brings her own Barbie karaoke machine to sing the worst song ever to be featured on this show. (Not counting Kasey Kahl's epic "I Was In a Helicopter"  performance, of course! Oh, it hurts so good.)
Carly brings the number of women to 25, but the limos keep coming. All the girls are getting their Spanx into a knot because they don't want any more girls to arrive. More girls come unitl Jade finally arrives. She is the 30th (and final) girl.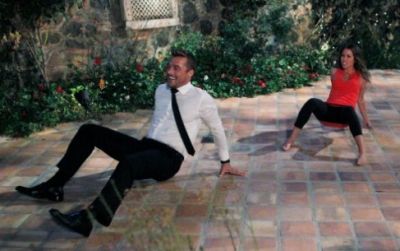 Chris goes back into the mansion to greet his harem of ladies. Kaitlyn makes him try to breakdance, and Chris says that she has a lot of the qualities he wants in a wife. Um, she would eat you for dinner, Chris. Run while you can!
Some of the girls are getting all bitchy because some of the "new" ladies are getting alone time with Chris, and they haven't gotten any.
"I wish I was a polygamist," Chris tells us.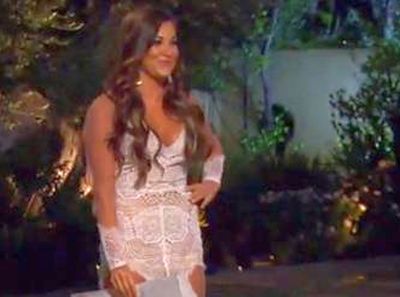 Ashley S. starts rambling about how all the people here are like onions. She then goes to steal Chris away from the the girl in the horrible stripper bride dress. She gives the girl a rose she picked and annoys her until she leaves. Something tells me that Ashley S. has a serious case of rum breath…
Megan arrives to steal Chris away, and Chris looks so grateful. I think he would have been grateful that anyone stole him away from ol' Captain Morgan. Seriously, it could have been Medusa and he would have been happy.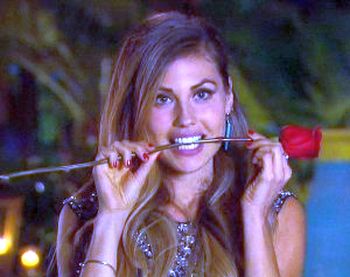 It's time for Chris to hand out the first impression rose. Everyone gets nervous as Chris heads over to Brit to hand it over. She accepts the rose, and the first kiss. Daaaang, farm boy ain't playin'!
They walk back in the house and Brit gets dagger looks from all the other rejected ho-bags that threw themselves at Chris. It's time for Chris to make his selections and weed through the bad hair, tacky dresses and drunken belches to see which one of these degenerates could be his wife.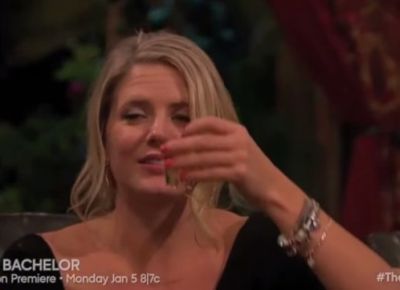 By this time, some of the girls are hammered, particularly Tara, the cowgirl. She's burping, cussing and slugging down any drinks she finds left on the table. Please, God, let her get a rose.
Finally, it's time for the rose ceremony. All the girls are hopeful that they'll get a flower. The first girl to get a rose is Kaitlyn, the "plow my field" chick. He gives the second rose to Jade, and the third to Samantha. Ashley I. (the Kat VonD girl), Tandra, Nikki and Kelsey (the widow) all get roses. The other girls are starting to get nervous, as Megan gets a rose. Tara, the drunken cowgirl, tells everyone that she's getting delirious.
The flight attendant gets a rose, as does Amber. Meanwhile, Tara's getting all red faced and sweaty and we know it's only a matter of time before she goes down.
Juelia gets the next rose, followed by Becca. Tara is shaking and making strange noises, while this is going on, of course.
Trina gets a rose, and Tara almost falls over. Chris dos not look amused. He walks out of the room without saying anything.
OMG—please tell me Farmer Boy is about to have a hissy fit that some slut-goblin ruined his rose ceremony!
Chris tells Chris H. that he was going to pick Tara, but now he doesn't know if he wants to keep her around. Tara seems to be doing her best to keep her shrimp cocktail from resurfacing during all of this.
Mackenzie gets the next rose, followed by Tracey. Everyone is shocked when Tara gets the next rose.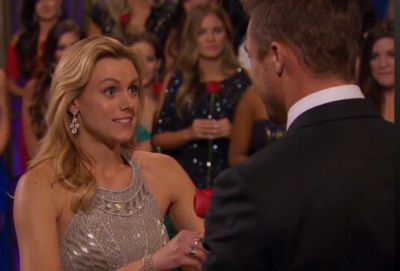 Jillian, Whitney (the fertility nurse), and Carly (the karaoke singer) are the next girls to get flowers. Suddenly, there is only one rose left and all the rejects are sweating as bad as Tara in a room of non-alcohol beer.
The last girl to get a rose is the other Ashley, the drunken onion girl.
So…basically we've determined that Chris likes girls that drink. All of the girls that didn't get roses start to cry that Chris chose lushes over them.
Finally, he gets a chance to celebrate with all of is whiners…I mean winners.
All of a sudden, Kimberly, a girl who was rejected, comes back into the mansion and pulls Chris aside to beg to stay. Oh, girrrrrl. No. No.No.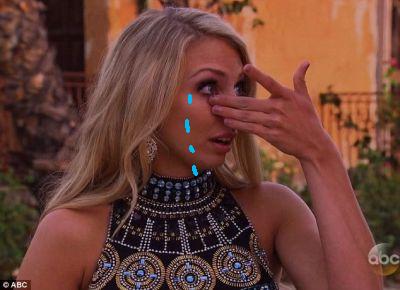 The episode ends there, so we will have to wait until next week to see if he tells Kimberly to spin it around and get out of his face.
I.Can.Hardly.Wait.
From the preview of the season we can gather that…ol' Farm Boy is a horndog! Yesss! There's hope for this season yet!
Until next week, kids…
(Photo: ABC)