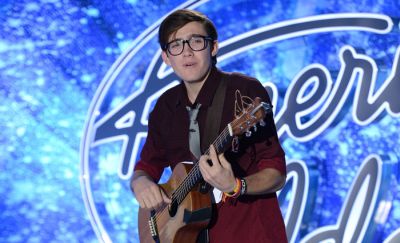 If Trevor Douglas doesn't become the next American Idol, he'd be just as happy teaching science on television.
"I would love to be like a singing Bill Nye," he said.  "Just because, you know, [he] isn't doing it anymore.  He's not writing books and debating people.  He's not that figure that is like 'Science is awesome!'
"So we need someone to make sure kids know that science is cool.'"
The 16 year-old from Fort Worth, Texas, wowed all three judges at his Nashville audition with a guitar-shredding rendition of Ed Sheeran's "Sing."
But it's his quirky personality that will make him a favorite among 'Idol' viewers.
Trevor shared a bunch of fun facts about his life and music in an interview with
TheTVPage.com
.
He began playing the violin at age 3 — and later mastered drums.
His favorite guitar is named Melvin.  "When you are with girls you gotta put on your polite face and you gotta be nice," he said.  "You gotta buy them dinner.  You gotta give them compliments all that time.  And that is good.  It is the right thing to do.  Hold the doors.  But with my guitar, I wanted to have guy time.  Do bro stuff. Fist bumps.  Manly things."
He performs for tips outside of sold out arena concerts.
The glasses are real!  "I used to wear fake glasses for a long time and I was like, 'No. I can't do this.'  I felt like a poser so I took them off.  Then my mom was like, 'Hey we are going to go get your eyes checked' and I needed glasses!