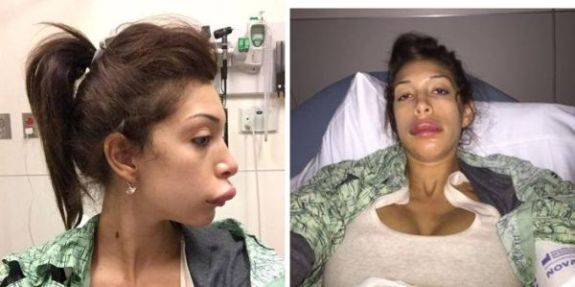 By Holly Rasmussen
Our favorite "Backdoor" Teen Mom is at it, again! As The Ashley told you last week, Farrah Abraham recently had her cosmetic surgery go seriously wrong; Farrah tweeted photos of herself after she had a disastrous meet-up with some collagen injections. Instead of giving her pouty lips, the injections made her upper lip swell to unimaginable (and downright cartoonish) levels. Never one to let an opportunity for media attention pass her by, Farrah appears to be using the mishap to get herself some more screen time. (Of course she is– I mean who wouldn't immediately take to Twitter while they're in the ER?!)
It seems Farrah will be using this incident to get herself a spot on the E! reality show, Botched, which features Dr. Terry Dubrow and Dr. Paul Nassif correcting disastrous plastic surgery.
The backdoor teen mom is no stranger to the knife; The 23-year-old has had breast implants, a nose job, a chin implant (that was later removed) and collagen injections. She previously told Life & Style magazine that collagen injections were "fun." (She probably doesn't feel the same way about them these days, though!)
Fans first started to wonder if Farrah would appear on the show when she captioned her photo Tuesday night with the hashtags "#botched #ER #fixit #California."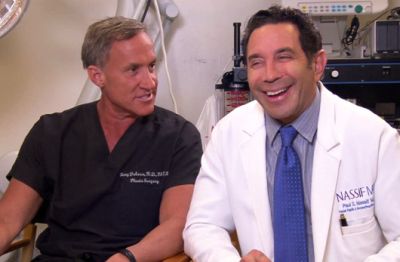 When asked if Farrah would appear on the show, Dr. Dubrow told DailyMail.com, "We can't talk about that but let's assume that we may be involved with that at this point. Maybe we have, maybe we will, but that's something she may need help with." (So, that's basically a yes.)
Farrah's father, Michael Abraham, confirmed that he and Farrah, as well as her mom Debra Danielson, were, indeed, filming something.
"It's a great Monday … Fog and all in Austin, TX!!! A few meetings and yes "working" with my girls and Debra. It will be a happy surprise for our fans and a joke on all our "haters" ….. Stay tuned," he wrote on his Facebook page, before adding that they were filming something.
The second season of 'Botched' will air in April. Farrah has not announced any new reality TV projects and, since she will not be appearing on Season 5 of 'Teen Mom,' she's probably jonesing to get her mug back on the air. This may be her ticket back to TV, at least temporarily. She is scheduled to appear at various club dates and at the adult entertainment AVN Expo later this month, so she better not waste any time getting those fish lips fixed!
(Photo: Twitter, E!)