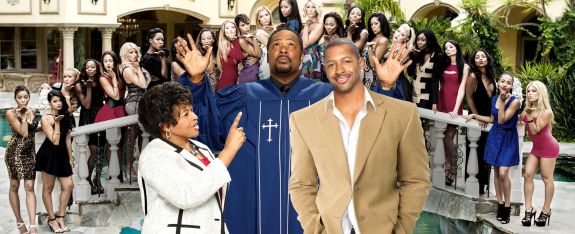 By Holly Rasmussen
What do you get when you cross The Bachelor with a Sunday sermon? Apparently, WeTv's Match Made in Heaven! The new reality show will follow millionaire Shawn Bullard as he searches for love. However, Shawn won't be alone in his search—he has God, his mama and a pastor on his side. Pastor Ken Johnson, the NFL Spiritual Adviser for the Indianapolis Colts, will be Shawn's right-hand man in his quest to find love. (Who knew sports team had their own pastors?!)
'Match Made in Heaven' will be breaking all kinds of ground. Shawn will be the first African-American to be featured on a 'Bachelor'- type show. 'The Bachelor' has never had an African-American bachelor. In fact, the show has been criticized for years for its lack of diversity. (The show's producers were even sued in 2012 because of it.)
While 'Match Made in Heaven' has the same "looking for love" vibe as 'The Bachelor,' it will be a whole different show. Not only will Shawn be turning to Pastor Ken to help him decide which lovely lady is right for him, but Shawn's mother, who WeTv describes as "very outspoken" (uh-oh) will be moving in to help pick out her future daughter-in-law. (Nope, that's not creepy at all.)
The girls will be "tested" to see if they meet the standards of Shawn's mama and pastor. According to a press release from WeTv:
"No one is immune to the temptation. In this proverbial Garden of Eden, the ladies are constantly met with the opportunity to make a choice between good and evil in their quest for Shawn's love. Will Shawn be tempted to take a bite of the forbidden fruit these women have to offer? Or will Pastor Ken and Mamma Bullard be able to guide Shawn into the light so he can pick the right girl to spend the rest of his life with?"
After watching the super trailer posted below, it's obvious that this show will feature some interesting girls, plenty of nasty fights and a bunch of bad pickup lines.
"Don't you get clappy with me," one girl tells another girl who is yelling (and apparently clapping) in her face.
"You make me blush…and I'm a black girl," a suitor tells Shawn. (That's an actual line spoken on this show!)
There will no doubt be plenty of drama with Momma Bullard calling out girls for being a bad influence on her little boy. In the end, it appears that Shawn will propose to one of the 25 women vying for his heart.
'Match Made in Heaven' premieres February 4 at 8 p.m. and will consist of eight hour-long episodes.
(Photo: Courtesy of WeTV)