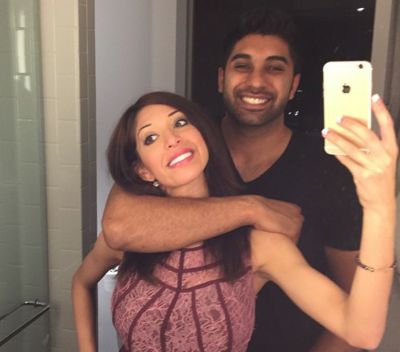 By Holly Rasmussen
Farrah Abraham is hinting that she will be doing another season of VH1's Couples Therapy. As you may remember, the former Teen Mom star appeared on a previous season of 'Couples Therapy'… solo. Farrah claimed that her "boyfriend" at the time, DJ Brian Dawe, was supposed to meet her on set for the show and never showed up. (Brian, however, revealed that he was never Farrah's boyfriend and that she faked it all to be on the show. Click here to read all about that!)
Anyway, earlier this month Farrah announced she had a new man in her life. Starcasm revealed that Farrah's new man is 26-year-old San Diego real estate agent, Simon Saran. Since Simon lives in San Diego, it would be convenient for him and Farrah to tape the new season of 'Couples Therapy'…and that's exactly what she's been hinting at.On January 21st, Farrah tweeted to Dr. Jenn Berman (the therapist on the show) and made it clear that they'd be getting together soon.
"Look forward to seeing you soon. I need my "Farrapy from only the best," she tweeted to Dr. Jenn, who responded that she was looking forward to it too.
Although there has been no official word yet, Farrah basically confirmed the whole thing to Starcasm by tweeting to them, "Oh @starcasm you know my relationship mashed together (Farrah + Simon = #Farsi) #Middleeastern all the way @couplestherapy helping out."
We'll give you a minute to decode all of that crazy Farrah-speak. It's hard, we know…
Anyway, this leaves us with so many questions. From their posts on social media, it appears that Farrah came into Simon's life about two months ago. The first public sighting of them together was when they were seen out partying together at the San Diego club Parq. Farrah's debacle with Brian Dawe has made her um, "fans," question whether or not this new relationship is real. The jury is still out on that, but this relationship certainly seems more real than any of her previous ones in recent years.
In fact, a source tells The Ashley that Simon was on set while Farrah filmed an episode of The Doctors (she's going to talk about her big ol' lip disaster, by the way!)
Last time Farrah was on 'Couples Therapy,' her mother, Debra Danielson, was brought on-set to do therapy with Farrah. (Click here to read what Deb had to say about that experience!) Will we get to see more Debra on screen? Only time will tell.
Season 6 of 'Couples Therapy' is set to premiere this fall on VH1 and they are currently casting. Nearly every season has featured someone from the 'Teen Mom' franchise, so unless Jenelle Evans and her fiancé, Nathan Griffith start campaigning for a spot on Season 6 (that's a show we'd all watch!) it looks like Farrah may be the one ugly-crying on Dr. Jenn's couches!
(Photo: Instagram)