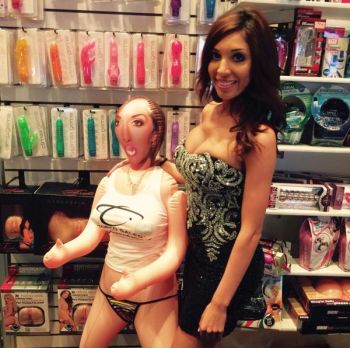 We finally have our chance to blow up Farrah Abraham. Literally.
That's right, kiddies. You will soon be able to do whatever you want to the former Teen Mom-turned-p0rn-star. Of course, this Farrah is plastic but…oh, wait…so is the real one.
Anyway, Farrah debuted her Farrah blow up doll (er…"love doll") at the AVN Adult Expo in Las Vegas over the weekend. The doll (which, in case you didn't pick up on it before is used for um, "sexy time"), features a hole in Farrah's mouth, as well as her actual face imprinted on it. It also has 3-D breasts, naturally. It also has a cyber skin "stroker' with a hole downstairs and a hole in Farrah's famous "backdoor."
Ew.
A PR agent for Topco Sales, the company behind the blow-up doll, tells The Ashley that the doll will officially be released this spring, and that it will cost you $49 to buy yourself a plastic Farrah! (How can you even put a price on this masterpiece, though?!)
Of course, this is not the first plasticized Farrah body part that's been released to the mass market. Last year, Farrah proudly debuted her line of molded private parts, as you do. (Click here to read The Ashley's experience attending Farrah's launch party for her plastic vaginas.)
But…she's not a p0rn star, y'all! It was a private tape!
According to Topco Sales Marketing Director Lynda Mort, Farrah is a mega-money-making-machine for the company.
"We are overjoyed to have Farrah here at the AVN show," she said in a press release. "She is a controversial figure in pop culture, but the adult industry loves her. People are fascinated by her, and the Farrah Abraham business is very good business. She sells very well."
Anyway, Farrah has been dragging her blow up doll all over Vegas this weekend. It (as well as Farrah's new boyfriend, Simon Saran) has joined Farrah at club appearances all over the city. As The Ashley told you earlier this week, Farrah and Simon may be making their romance so public because they may be appearing on the next season of Couples Therapy!
Pray to the reality TV gods that she brings the blow-up doll with them to the therapy house!
(Photo: Twitter)