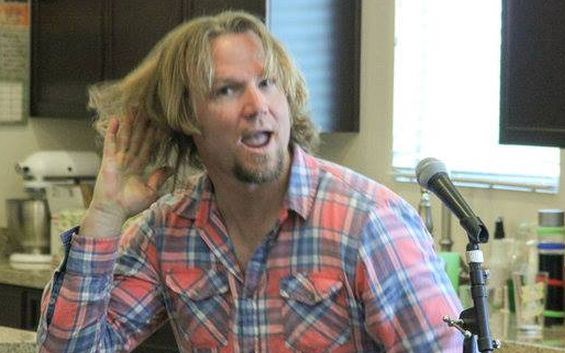 By Holly Rasmussen
Last night, the episode we've all been waiting for of Sister Wives aired. As The Ashley told you recently, the show's star, Kody Brown, and his wife of over 20+ years, Meri, divorced in September of 2014. In December, Kody married his youngest and most recent wife, Robyn. When the news broke, the Browns released a statement stating they were "legally restructuring the family." Last night's episode addressed Meri meeting with a lawyer to discuss the divorce.
Before we can get to the divorce fun, though, the Browns had to deal with a behavioral issue with two of their 17 children. Two of Kody and Janelle's sons (Gabriel and Garrison) got in a slap fight and one lied about it. (I don't know which one lied. There are so many. They're all running together.) The Browns are acting like it's a huge deal and this is the first time anything like this has happened. We aren't buying it, of course. With this many children in a family, someone is surely getting bitch-slapped on the regular. Also, no one cares. This is boring. Let's hear about the divorce!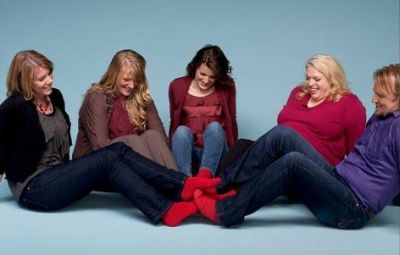 Over at Meri's house, the anthropologist students that are studying the Browns talk to Meri about the early days of the family, back when she and Janelle were at each other's throats over the Kod-man. (Ew.)
Meri said she wanted a close and emotional relationship with Janelle when she first married Kody, but that's not what they had and she thinks it's too late now to form that kind of relationship.
Meri's lack of a friendship with Janelle may be the reason Meri was so set on Robyn joining the family. Maybe she thought she found the friend she always wanted in Janelle. (Because, let's face it…we all know Christine is crazy. Remember when she said toasters kill people?)
The anthropologists meet with Robyn, who is frazzled because Solomon (her son with Kody) has just had "extensive" dental surgery in which he had to be put to sleep. (Um…why does a 4-year-old need dental surgery?! Does no one else find this strange, given how young this kid is?)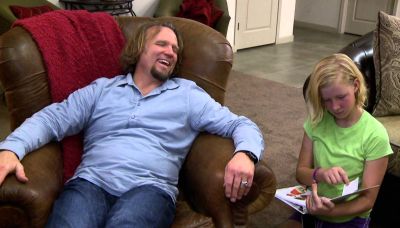 The anthropologists bring up the fact that Kody has more one-on-one time with Solomon than he does his other children and they want to know why. (Um…isn't it obvious? It's because Robyn's his favorite, duh. If these students can't see that then they should probably go find a new major.) Robyn, of course, gets all defensive and deflects the situation.
The anthropologists next sit down with Kody and Meri's daughter, Mariah, who wants to be a sister wife. During this meeting Kody and Meri say they wish they would have dated their spouses longer and that they would have gotten married later in their lives. Christine, of course, gets all butt-hurt over this comment and freaks out like a 10-year-old schoolgirl, as always.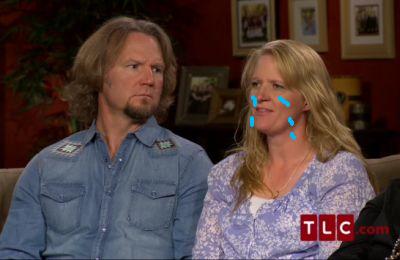 Finally, the anthropologists take Kody and the wives to the coffee shop to talk about some of the more in-depth issues. The anthropologists ask the family how they would feel if one of their kids wanted to have a same sex marriage. Robyn said they would embrace them and their partner, and Kody adds that he would still want them to wait to have sex until marriage.
After that, they talk to Janelle one-on-one about her marriage and her relationship with Meri. UGH! Why are they stretching this out so long? Get to the good stuff–the divorce!
Finally, with only two minutes left in the episode, Meri goes to meet with the lawyer and tells us that she's been thinking about getting a "legal divorce" from Kody for about five years. Then the episode abruptly ends.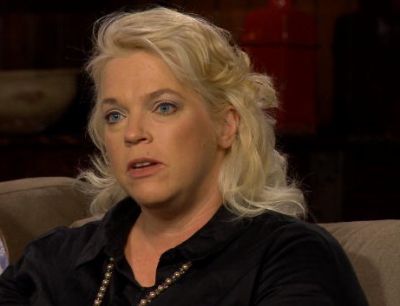 Of course it does.
On the preview for the next episode, we see Meri tell the other wives she is divorcing Kody. Unfortunately, we will have to wait two weeks to see the rest of that episode.
To sum it up, we basically watched an hour of kids fighting, Kody wearing his hair in that gross ponytail, and Christine being a big ol' baby for nothing.
(Photos: TLC)