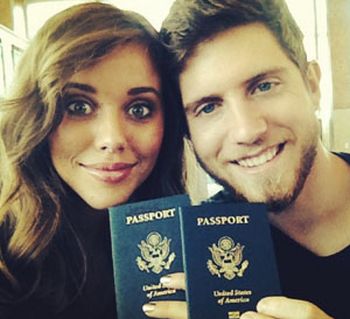 By Holly Rasmussen
Jessa Duggar Seewald is breaking Duggar tradition! As you know, the Duggar family is famous for having "as many children as God will allow." Jessa's parents, Jim Bob and Michelle, famously have 19 kids. Her brother Josh and his wife Anna are currently expecting their fourth, and her sister Jill got knocked up a few days after her wedding and is currently expecting her first child.
However, Jessa and her husband Ben are not planning to accumulate their litter in the same way their family has done. In fact, the newly married couple recently told People magazine that they want to adopt.
"We hope to adopt a lot of kids," Jessa told the magazine. Ben agreed by stating, "Kids are so important."
So, they still want to have a whole litter of little ones to feed their tater tot casserole, they just don't want them all to come from Jessa's womb.
It seems that ol' Jim Bob and Michelle will be on board with the adoption. In fact, they told Today.com in 2013 that they were considering adoption themselves. Michelle said adoption really "tugged at their heartstrings." At the time, they were considering adopting from El Salvador.
"We love children, and we really believe every child is a special gift from God," Michelle told Today.com.
In September 2014, Jessa told ABC News that she and her husband plan to have a jumbo-sized brood like her folks. If her body doesn't naturally allow her to have a ton of kids, she and Ben will use adoption to supplement.
"Whatever God's plan is, we'd be good with that!" she said. "It's probably not possible for me to have 19 kids naturally, but we might adopt and get up to that number."
(Photo: Instagram)