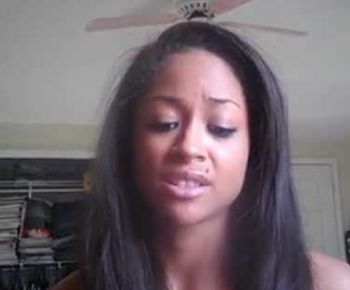 Last week, 16 and Pregnant Season 2 star Valerie Fairman made headlines when she was picked up in Delaware for prostitution. The Ashley gave you the full, tragic story of what's happened to Valerie since she taped her episode of the show in 2009. (Click here to read the full report.)
The Ashley wanted to provide a quick update on what's happened to Valerie since her arrest. This is not a complete update; however. The Ashley will have some more information very soon, and you will definitely want to check back for that. (Trust me!)
Anyway, Valerie is currently still behind bars. However, she has been transferred from the Delaware correctional facility that she was taken to after being arrested. She is now back in the Chester County, Pennsylvania, jail, as that's where her original charges were.
To provide some background on those crimes, The Ashley has done her best to sum up what happened before the prostitution arrest.
Valerie violated her probation stemming from her previous arrests for moving property theft and receiving stolen property, and a bench warrant was issued for her arrest. On April 11, 2014,  police in Lancaster County, Pennsylvania, responded to a disturbance call to a house Valerie was at. She was arrested and handed over to the Chester County Prison.
In May she was sentenced to a minimum of 22 months in prison for  her "Theft by Unlawful Taking-Movable Prop" charge (which appears to be a fancy way of saying "Stealing a Car.") She was sentenced to two years probation for her other charges.
Although she was sentenced to nearly two years in prison for her crimes, Valerie was released on parole on June 26, 2014, after serving less than two months of her sentence.
Obviously, with this new criminal summons for prostitution, Valerie has yet again violated her probation and her parole. It is unlikely that she will be released from jail before her court date, which is scheduled to take place on March 4.
A source tells The Ashley that Valerie will almost certainly be sent to a rehab facility after her court date. This will be one of many attempts that Valerie has made since her '16 and Pregnant' days to get clean.
"It's very sad because Valerie is a real sweetheart and she wants to be clean," David Pryce, Valerie's former boyfriend and the uncle of Val's baby-daddy Matt, told The Ashley last week. "When she was with me, she was fighting so hard to get clean. She would be sick every morning. But she can't kick it."
And, although some sites are reporting that Valerie's arrest "may cause her to lose custody" of her daughter, five-year-old Nevaeh, that's not true. Valerie has already lost custody of her daughter, who currently lives with Val's parents. Nevaeh's father Matt is very involved in his daughter's life and will eventually seek sole custody.
The Ashley will be providing more info on Valerie soon so stay tuned!