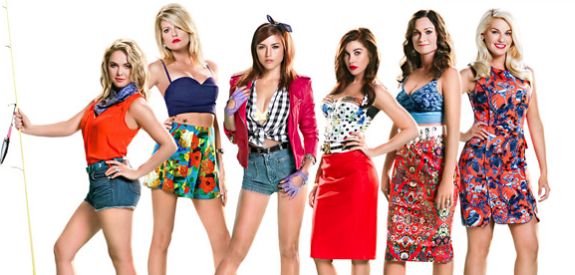 By Holly Rasmussen
Just when we thought reality television couldn't get any crazier, VH1 is introducing Hot GRITS (that stands for "Girls Raised in the South," for you Yankee folk.) The new reality show seems to be a mash-up of Buckwild and The Real Housewives franchise.
According to a press release from VH1, the show will follow seven young and beautiful women who "prove Southern women aren't all cut from the same cloth." Uh-oh, here comes the catfighting.
First we will have Emily and Hailey who are the more traditional Southern belles. They love luxury and looking nice. The show also features four country girls: Jenna, Ratchet, Sarah, and Bear.
Yes. You read that correctly. One girl's name is Bear and the other goes by "Ratchet." Well, look on the bright side; as least Ratchet doesn't have to worry about people calling her that behind her back. Let's pray Bear and Ratchet are nicknames.
The country girls would rather wear camo and go hunting than shop and go to a nice dinner. To round out this lively group, we have Jennifer who recently remarried her ex-husband, as you do.
The show is set in the small town of Valdosta, Georgia, which according to VH1, is well-known for its abundance of "charming and jaw-dropping young ladies." This season we can expect to see the GRITS dealing with such dramas as kicking out a live-in ex-boyfriend, breaking the news of a secret marriage to a traditional family, and breaking out of a small-town to hit the big city. (Y'all come back now, ya' hear!)
Get your cowboy boots, daisy dukes and monogrammed tank tops ready because the show will premiere on Wednesday, March 25 at 8 p.m. on VH1.
(Photo: VH1)