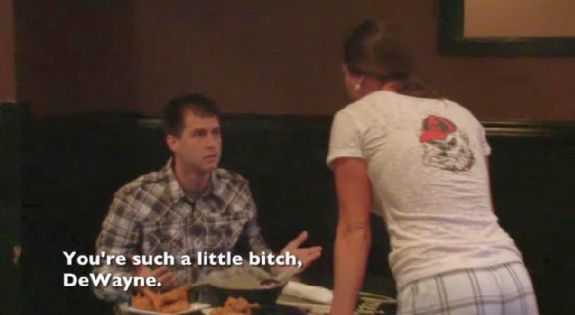 By Holly Rasmussen
This week delivered another sizzling episode of Hot GRITS, VH1's new reality show about the ladies of Valdosta, Georgia. We left off last week with Sarah throwing all of her ex-boyfriend Dee-Wayne's stuff on the front yard.
Dee-Wayne comes back over to pick up the rest of his stuff. Sarah tries to stop him from coming in, but he insists he has more stuff inside. He storms in and grabs his mom's leftover spaghetti and his beer out of the refrigerator. (You've gotta get the essentials if you're leaving, I guess.)
We flash to Bear and Ratchet who are visiting Ratchet's dad, Peanut. (Yes.) Peanut enlists their help to paint posts. After hearing that Bear's husband, Lion, hasn't told his parents that he and Bear have been married, Peanut offers up some life advice.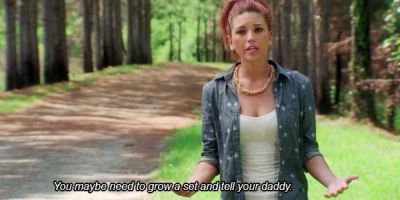 "You need to tell your old man he needs to step up to the plate," he tells her.
You can't argue with a man called Peanut.
Meanwhile, Jenna, Ratchet and Emily go fishing. Emily tells them she's going to the big city of Jacksonville (which, according to her, is the Paris of the South) this weekend and invites them along. Ratchet has never been to the Paris of the South. (They are really trying to play up this country girl versus city girl thing on this show.)
However, the gals will have to wait to see the bright lights of Jacksonville because Jenna's ex-boyfriend is throwing her a birthday party at the country club that night.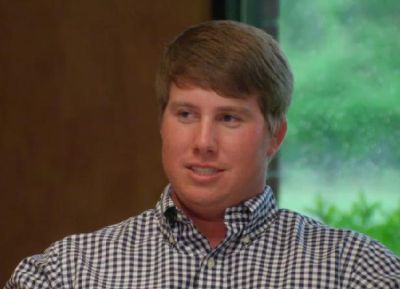 We pick up at the country club, where Jenna's ex, Corey, is playing some golf in his Dockers. Ratchet and Bear show up in Daisy Dukes and tied-up shirts because they thought it was a country club. They've done put on their finest country duds and are shocked to find out that a country club is not a dance club for country folks.
Ding-dangit!
Jenna is steadily calling Emily a bitch to the cameras, so we know some drama is going to go down soon. At the country club, Corey reveals to the girls that Jenna had been married before and Emily says, "I would never make that mistake." Oh no you didn't! This is why everyone hates Emily!
Sarah decides she's not going to come to the dinner that night because Dee-Wayne has been invited. (Well at least we'll get to watch Dee-Wayne get his country club on! That's all that really matters.) Hailey, who we haven't heard from at all yet, stands up for Dee-Wayne.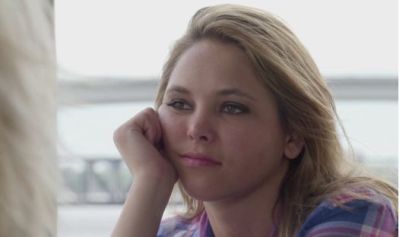 After Dee-Wayne arrives, he tells the gang that he's quite the intellectual: after all he spent the best seven years of his life in college. Jenna and Ratchet aren't having it though; they know Dee-Wayne is a douche who's just trying to make himself look good after his breakup with Sarah.
At dinner, the group asks Dee-Wayne to tell his side of the break-up story. He tells the story, slipping in (pun intended) that he and Sarah actually had sex two nights ago!
Record.Scratch.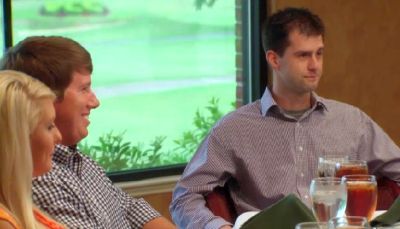 Ratchet and Jenna (who live with Sarah) don't believe it. They said they would have heard it if it happened and then they demonstrated Sarah's "getting freaky noises" which basically sound like a dying pig's last squeal.
Boundaries, people, boundaries.
Later that night, Sarah is at home getting ready for bed when Dee-Wayne calls her and tells her he is having drinks with Hailey. Upset that Dee-Wayne is bragging about getting close to her friends, Sarah storms over there in her pajamas.
She first tells Hailey that Dee-Wayne is always talking badly about her. She also threatens to beat her up.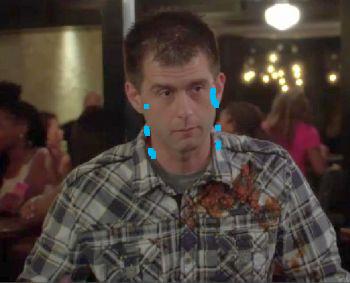 Before any fists can fly though, Sarah (still pajama-clad, mind you) storms over to Dee-Wayne and throws a table (as you do), causing food to fly all over his "good" plaid shirt.
Ding-dangit!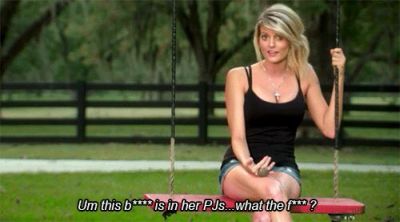 Hailey advises Dee-Wayne to ditch Sarah for good, but he is still in love with her and is willing to let Sarah throw as much food as she wants on him.
"I love her and I love her crazy," he says.
The next day we go with Bear and Lion to a car drifting event and finally learn what bear means. ("Burn excessive amounts of rubber," in case you were wondering. Apparently, that's her motto.)
After burning the rubber, Bear and Lion (when will we learn what Lion means?) sit down to discuss when Lion will stop being so cowardly and finally tell his parents that he's been hibernating with Bear for the past two years. Lion says he doesn't feel like it's the right time. When is the right time, Lion? Your 50th anniversary?
Emily decides to set Ratchet up with one of JJ's friends. This will be fun. Emily decides to give Ratchet a makeover.
"I feel like a clown at the circus right now," Ratchet says.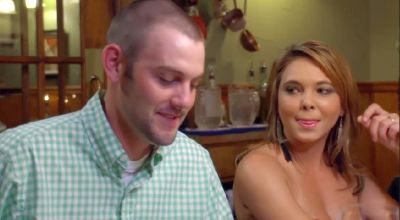 Her date shows up wearing a green gingham shirt, and is named Blakely. Ratchet is nervous, so she breaks the ice by asking him what bars he goes to. Despite the gingham, he does seem pretty perfect for Ratchet. He likes fishin' and goin' to Lucky's, where Ratchet bartends. Like Ratchet, he's never had champagne and prefers to drink beer out of the bottle. Ratchet likes Blakely, and says she could definitely see herself  "taking him home to my Daddy for the first time."
Next, all the girls go to Lucky's and Emily and Jenna get into it. Jenna says Emily is a bitch and calls her out for getting a nose job. Woahhh…everyone hold on to your bar food!
We'll have to wait until next week to see if Emily and Jenna will get into some sort of "trashy but classy" fistfight!
To read a recap of last week's episode of 'Hot GRITS,' click here!
(Photos: VH1)