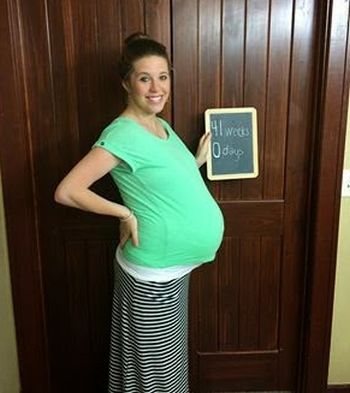 Fans of 19 Kids and Counting were buzzing after Jill Duggar's husband, Derick Dillard, posted a blog earlier today stating that Jill had (finally) gone into labor! Jill, who is nearly two weeks past her due date, was having contractions, according to Derick's post, meaning that the baby boy's birth was near.
After Derick's blog post went viral, sites began to report that Jill was in active labor, or that the baby had already arrived.
Unfortunately for fans (who have reached a fanatical level of Duggar bump watch with Jill's pregnancy) it was a false alarm. Jill and Derick later posted photos of themselves at a restaurant, telling fans that "Baby Dilly" has yet to spring from Jill's loins.
"Out to lunch," Jill captioned a photo of her and Derick that was posted to her Instagram on Friday afternoon. "Maybe this spicy Mexican food will make the baby come! Only Braxton Hicks contractions with this weather so far. We shall see what the weekend brings! #NoBabyYet."
Derick also made it clear that he and Jill were not yet parents.
"Baby dilly will come in God's timing," he tweeted. "#babydilly #41weeksandcounting #notinactivelaboryet"
Derick's post on the Dillard family website was quite strange. In the same sentence in which he talked about the birth of his son, he also talked about the end of the world, fig trees and death. As you do.
"From what I've learned in birth class (as well as from Jill, who is a student midwife) and from what I am witnessing right now with Jill, labor pains start sporadically and then become more consistent, longer lasting, and stronger the closer we get to the birth of our son," he wrote. "Again, it's important to remember that we don't know when he will be born, but we can definitely see the evidence that points to his imminent arrival, whenever that might be. This is the perfect picture of how 'end times' events will play out."
He continued with more doomsday writing before posting, "Now that I'm about to be a dad, I find it quite interesting that Jesus related the end of the world to the event of birth. And it's easy to relate to because as much as Jill and I want to know when this birth will happen, the day and the hour of baby dilly's birth is definitely unknown."
Jill's brother, Josh Duggar, joked that the baby needs to pop out of his sister already.
"What a great day…to be born! If only #BabyDilly were following me on Twitter," he tweeted on Friday.
Regardless of what day the Dillards' baby is born, we will get to watch his birth during a very special two-hour episode of '19 Kids and Counting.' TLC released details of the special earlier this week. It is set to air on May 5, one day after a special featuring all of the '19 Kids and Counting' births will air.
The Ashley, who is on reluctant Duggar bump watch, will keep you posted on any baby news!
(Photo: Instagram)