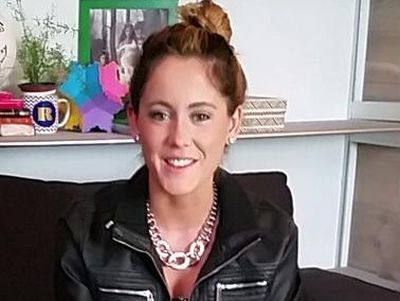 Make some more room on your bookshelves, Teen Mom fans– yet another one of the franchise's stars has announced that she is penning a memoir!
In an interview with WetPaint Entertainment on Friday, Teen Mom 2 star Jenelle Evans revealed that her she has a book coming out. She is following the lead of her 'Teen Mom 2' co-star Kail Lowry, whose book, Pride Over Pity came out last year and made the New York Times' Best Sellers list.
"Keep an eye out for my upcoming book!" Jenelle said in a video clip.
Jenelle (who recently signed with the same PR agent that Farrah Abraham uses) is the fifth girl from the franchise to write a book. In 2012, Farrah became the first girl to release a memoir, the ever-so-eloquently titled My Teenage Dream Ended. Since then Amber Portwood has released her book, Never Too Late, and Catelynn Lowell recently released Conquering Chaos, a book she penned with fiance Tyler Baltierra.
(Of course, there's always The Ashley's book, Teen Mom Confidential, which came out in 2013. Just sayin'!)
Anyway, The Ashley has found out that Jenelle plans to write the book herself, and that she likely won't be using the same publishing company that produced Amber, Kail and Catelynn's books.
From what The Ashley hears, MTV had to approve it and will be getting a cut of the profits, just as they did with all of the other books written by 'Teen Mom' girls. The girls are required to give MTV a portion of their profits, per their contracts. They are not allowed to write a book without approval from the network/producers.
As soon as new broke online that Jenelle was releasing a book, the hashtag #JEBookTitles emerged on Twitter, with "fans" providing ideas for the title of Jenelle's book. Most were unfavorable, but The Ashley pulled a few of her favorites to include here:
"Nothing Else Worse Can Happen," (a play on what Jenelle told her mother, Barbara, during her 16 and Pregnant episode)

"How to Lose Your Reefer and Your Kieffer: A Motivation Story of the Life of Jenelle Evans"
Here's what The Ashley really wants to know: When is Jenelle's mom, Barbara, going to publish her book! Now that's one The Ashley will read from "cova" to "cova!"
The book is set to hit shelves in early 2016.
The Ashley has reached out to Jenelle's manager for more information but has yet to hear back.
UPDATE: WetPaint has posted its full interview with Jenelle in which she discusses what will be included in her book. To read that, click here.
(Photo: Instagram)