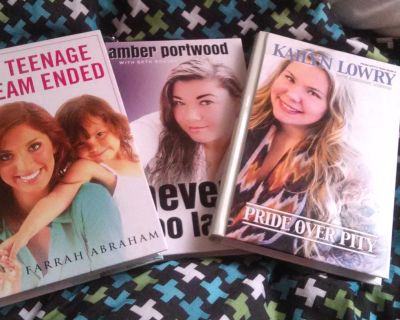 Farrah Abraham angered several of her Teen Mom franchise co-stars last night when she decided to post a tweet aimed at those girls who have written books about their lives.
Farrah, who as you may remember wrote what is possibly the most poorly written book ever produced outside of a school project, basically called out Amber Portwood, Kail Lowry and Catelynn Lowell for not putting photos of their children on the cover of their books. (Farrah's book, the ever-so-delicately titled My Teenage Dream Ended, features a picture of Farrah and Sophia on the cover).
"Look@ covers as you collect them #ActionsSpeakLouder why aren't there more children on the covers #TrueStory," she tweeted earlier this week. (No word on why it sounds like an English Second Language student is writing her tweets.)
This angered Amber and Kail, who understandably took Farrah's tweet as a slam.
"What does this mean?" Amber tweeted in response to Farrah. Amber later explained why her daughter, Leah, does not appear on the cover of her book, Never Too Late.
"I did it out of respect for my 6 year old who shouldn't be on the cover of a book talking about drugs and sex..love not hate," Amber tweeted.
Catelynn, who just released Conquering Chaos, her book with fiance Tyler Baltierra, kept quiet, but Kail spoke up to let everyone know how ridiculous she thought Farrah's comment was.
"I'm not a great mom because my sons are not on my book cover, everyone," she tweeted sarcastically, before adding, "Low blows for no reason though? Get it together girl."
Farrah's original tweet seemed in response to a fan sending her a photo of her book, along with Kail's and Amber's. From what The Ashley can gather, Farrah was basically implying that she was the better parent because her own book featured her kid on the cover and the other girls' did not. Farrah's book, like Kail's and Amber's, deals with adult subjects. In fact, Farrah's book is quite graphic.
(An actual sentence featured in Farrah's book, in the part where she describes her water breaking on the night she gave birth to Sophia:
"I had to laugh because all I could think was that the smell reminded me of having Derek's cum inside of me." Um…yeah….)
Anyway, fans began adding their two cents into the argument.
"IDK why she would want her kid on a book titled My Teenage Dream Ended basically saying her kid ruined her life," one commented.
Even 'Teen Mom' star Gary Shirley got into the act.
"You go girls!" he tweeted. "Spread the love!'
Kail later told a fan that she felt Farrah was out of line by insulting her co-stars.
"We are all on the same show trying to get across the same message… Some more than others," Kail tweeted. "But us especially in this whole thing together should be lifting each other up not tearing down."
Farrah's random insults are certainly not making her any more popular with her co-stars, who are already upset that Farrah was allowed back on 'Teen Mom.' As The Ashley previously reported, the girls were less-than-thrilled when they found out that Farrah was back, and from the looks of it, the feelings really haven't changed.
Watch the trailer for the upcoming season of 'Teen Mom' by clicking here!
To order Farrah's book (hey, it's good for a laugh), click the link below:

(Photo: Twitter)