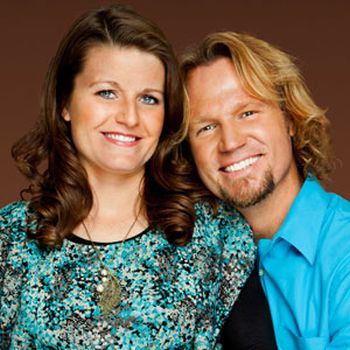 Robyn Brown and the rest of the Sister Wives stars happily live-tweet each episode of their show. However, in the past, they have been reluctant—or even flat-out refused— to answer any questions their fans have had that deal with negative or unfavorable behavior.
Over the past few days, however, Robyn decided to step out of her safe box and challenge her fans (and critics) to ask her real questions and, shockingly, she answered most of them! From questions about her legal marriage to Kody, her ex and even that enormous Victoria's Secret debt she rang up during her first marriage, Robyn answered them all.
"[I'm] just facing the situation head on," she told one fan, who asked her why she was answering these questions. "Trying something new." She encouraged another critic to "Call me out."
"I am trying to see if talking back helps. I am tired of the backlash," she added.
Here are a few things we learned thanks to Robyn's Twitter rant/Q&A session.
1. Kody and Robyn celebrated their legal marriage by going on a "honeymoon" in Hawaii.
Robyn made it clear on the finale episode that her "real" wedding to Kody was four years ago and that their legal wedding would just be a technicality. However, the fact that Kody and Robyn (who celebrated their first wedding with a honeymoon trip to California in 2010), jetted off to Hawaii after they became legally married in December 2014 begs to differ. Fans seemed shocked that Kody took Robyn on an exotic vacation and left Meri at home, crying over her divorce papers. Robyn addressed this situation.
"Well if we are going to be COMPLETELY fair…I never got to go to Mexico and neither did the kids," Robyn told a fan, referencing the trip to Mexico that Kody and Meri went on to celebrate their 20th wedding anniversary.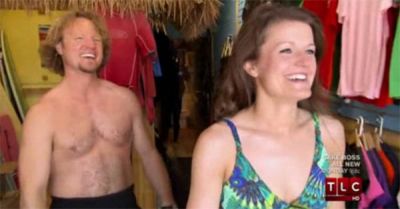 She later told a fan that Kody's other wives, Janelle and Christine have also been treated to vacations alone with Kody.
"Just because you didn't see it on the show didn't mean it didn't happen," she tweeted. "Both Christine and Janelle have."
She even revealed how they paid for the trip.
"I saved up my grocery money for my trip to Hawaii," she said.
Sorry kids—one Lunchable a day—Momma wants to do the hula! (I'm kidding….kinda…)
However, Robyn claims the trip wasn't a honeymoon, it was instead a trip for her birthday.
"I took Kody to Hawaii for my birthday in Oct. Something I always wanted to do," she said.
2. Her kids don't watch the show.
A fan criticized Robyn for publicly bashing her ex-husband, who's the father of her three children—Dayton, Aurora and Breanna. Robyn told the fan that the kids don't watch the show, therefore they've never seen what she's said about their father.
"[The] adults [watch it] and whatever kids that want to watch. My kids don't want to and I don't make them," Robyn wrote.
3.  She had a reason for racking up a $1,000 debt at Victoria's Secret.

In 2010, several media outlets uncovered details of Robyn's divorce to her first husband, David Preston Jessop, and it was discovered that Robyn owed Victoria's Secret over $1,000! That has followed Robyn around for years, so she finally addressed it when asked about it by a fan.
"[The] Victoria Secret debt was for long sleeved shirts and longer pants and longer pjs," she wrote. "I have very long legs so I had to special order them back then. That debt is paid. People are sure hung up on that. I lived in a town without a Walmart."
4. Even Robyn is tired of seeing herself cry on the show.

Robyn (who has "affectionately" become known as "Sobyn" on Internet message boards that discuss the show) blubbers more than any other 'Sister Wives' star, no doubt. When a fan asked Robyn why the hell she's always crying, Robyn actually explained her behavior.
"I spend days filming and I cry once and the editors will for sure use it," Robyn wrote. "Frankly, I am tired of seeing it on the show."
5. Her kids were eager to get a "new dad."
When a Twitter user criticized Robyn for "making" Dayton, Aurora and Breanna call Kody 'Dad,' Robyn clarified that it was what the kids wanted.
"My kids were asking me for a new Dad from the time I was divorced," she said, adding that her daughter "by choice- had been calling Kody Dad for months."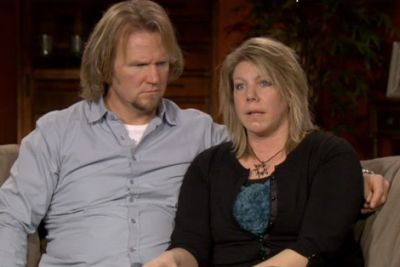 6. Kody really does love his other wives.
Fans of the show have stated that Robyn is obviously Kody's favorite wife, and that he shows her more love than he does his other three. Robyn addressed this issue in her rant.
"Kody tells me all the time how much he loves his wives and I see him walk his talk every day," she wrote.
When a fan brought up the fact that Kody was too busy courting Robyn to be there for Christine when she was pregnant with his baby (Truely), Robyn had a response.
"YOU ARE WRONG," she wrote. "He loves Christine and was there for her while she was in labor with Truely."
7. When she gets jealous of one of the other wives, Robyn puts on another pair of panties.     
It's not easy to watch your husband get frisky with another woman. Robyn admitted that she does get jealous.
"Of course I do but…I remember how much I love my SW and I put my big girl panties on and go have fun with my kids," she wrote.
We've got to ask…are they Victoria's Secret panties?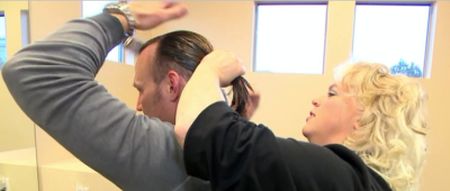 8. TLC often edits the show to make it seem like Kody spends more time with Robyn than he does with his other wives.
Robyn stressed that she's not the favorite wife—it just appears that way sometimes due to the way the show is edited.
"It can be frustrating for all of us sometimes," she wrote. "An example- you didn't get to see the romantic date Janelle and Kody went on for their anniversary last year. You just saw Kody do his hair in a ponytail and then them walking out the door. Janelle and Kody talked about how much fun they had to us and showed off the beautiful bracelet he gave her. They filmed the date but chose not to use it."
She was not, however, dissing the show's editors. She made it clear that she knows they have a hard job.
"I think the editors do their job," she added. "I think the editors are constantly trying to understand how to show our truth yet show the most interesting story. You don't see everything & every special moment in every relationship."
(Photos: TLC)