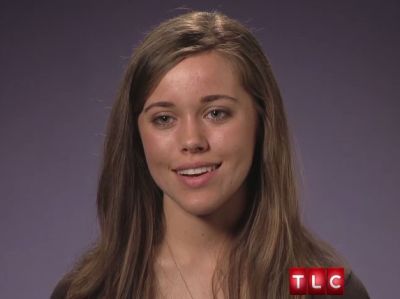 By Holly Rasmussen
Everyone's favorite resting-bitchface Duggar is at it, again. Jessa recently spoke out about the tour she is doing this spring talking about her marriage, her family and other things.
Islandpacket.com spoke with newlywed Jessa about her upcoming Southern Women Show tours. When asked if she had learning anything new about relationships since her and her sisters released their book, Growing up Duggar: It's All About Relationships, Jessa pretty much admitted their relationship advice in the book was complete crap.
"We did write a section in there about dating and finding the right guy and all that," Jessa said. "That was before any of us had walked that road. It was just advice that other people who had given us and things we assumed we would do when we came to that."
So…basically she's telling us she had no idea what she was talking about. When the book was written in early 2013, none of the girls had ever even been allowed in a room alone with a man, let alone been in a relationship. (Jessa began her courtship with Ben Seewald in fall 2013, and Jill and Derick Dillard began their courtship in 2014.)
Does anyone else feel like Jessa is just sticking it to the Duggar family rules any chance she gets? First, she got married in a blush-colored dress, which was kind of a slap in the face to her family's emphasis on purity at marriage. Did you see the shocked look on Michelle's face when Jessa announced she didn't want a white dress? Classic. Next, she refused to have cake at her wedding and only served ice cream. Now, this– publicly calling out her family for spoonfeeding fans a heap 'o' crap.
But, have no fear, Jessa revealed that she and Jill are working on an additional chapter of the book that will likely discuss how to be a good wife. Hopefully the new chapter will address my two eternal questions. 1.) Why must Jill drive her husband to and from work every day? 2.) Why did Jessa marry a 19-year-old man child who has no skills or life experiences? I'm assuming the answers to both are because the Lord told them to, but I guess we'll have to wait to find out.
(Photo: TLC)
To order Growing Up Duggar, click the link below: