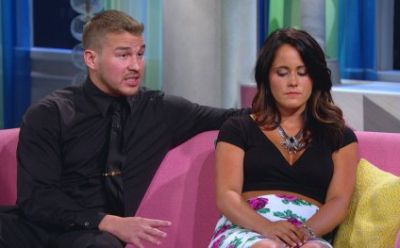 Add another arrest  to the pile!
Yet another one of Teen Mom 2 star Jenelle Evans' beaus have found themselves behind bars! Nathan Griffith, Jenelle's on-and-off-again fiance/baby daddy  thing, was arrested this afternoon on charges of criminal domestic violence, following an incident at the couples' house in Socastee, South Carolina.
According to local news site wspa.com, police were called to Jenelle and Nathan's home in the wee hours of Wednesday morning.
"There was some kind of physical assault — although it may have been minor," Lt. Raul Denis of the Horry County Police Department told WBTW.
This was the second time the police were called to Casa de Jenelle today. In the wee hours (around 4 a.m.), police paid a visit over there after they were called. That time, no one left in handcuffs, but Nathan wasn't so lucky the second time police arrived.
Luckily, we will likely get to see it all play out on 'Teen Mom 2' Season 6, as it's being reported that MTV cameras were on the scene today.
"Film crews have been at their home recently and on Wednesday for taping of the 6th season of Teen Mom 2, which is planned to air later this year," the site reported. (Here's to hoping we get to see more epic Nathan arrest footage, like we did when he was picked up for drunk driving and resisting arrest in an earlier season!)
Nathan (and Jenelle) are certainly no strangers to the inside of a police car. Nathan has been arrested at least three times for DUI, and Jenelle was arrested just last week for driving with a suspended license.
Several of Jenelle's critics are pointing out that it appears that Nathan was set up by Jenelle for arrest. (The Ashley is not confirming this, however.) Radar Online recently published an article that discussed the "constant fights" taking place at Jenelle and Nathan's house, with "a source" (cough, Jenelle, cough) adding, "Nathan is very controlling of Jenelle."
Fans of the show may recall that several other former lovers of Jenelle have also found themselves slapped with assault charges. In 2013, her former husband, Courtland Rogers, was arrested for "assault on a female" after a fight with Jenelle. In 2012, her former fiance, Gary Head, was arrested for assault (among other things). During that incident, Gary allegedly tried to strangle Jenelle with a bedsheet, according to Jenelle's police report. Jenelle's ex, Kieffer Delp, was also once picked up for domestic assault.
"The situation is not funny," Jenelle's former fiance, Gary Head tweeted. "What's funny is how I told Nathan her true colors but nobody ever listens to me…After 4 guys down and a track record like hers, common sense should apply."
No word where Jenelle and Nathan's son, Kaiser, was during all of this mess. The Ashley will update this story when more information becomes available.
UPDATE: More details have been released about what happened during Nathan's arrest, and what caused his fight with Jenelle! Click here for all the scoop!