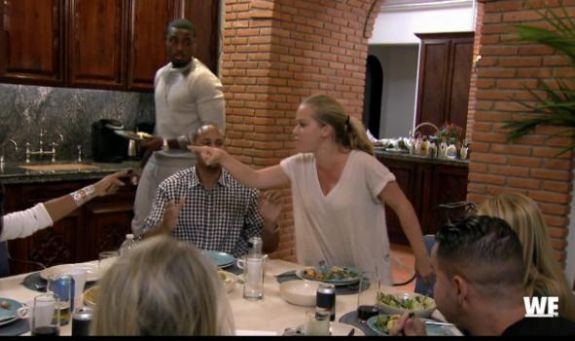 By Holly Rasmussen
The train wreck that is Marriage Boot Camp: Reality Stars is back and better than ever! This season will feature singer Aubrey O'Day and her boyfriend Travis Garland; self-proclaimed Basketball Wives Cougar Tami Roman and her younger man, Reggie Youngblood; Jeff Schroeder and Jordan Lloyd of Big Brother and Amazing Race fame; and Jersey Shore star Mike "The Situation" Sorrentino and his fiancé Lauren Pesce. However, no one really cares about all of them. The real stars of the show…(and my favorite reality hot mess of a couple)…are Kendra Wilkinson and Hank Baskett!
Hank was accused in the media last year of cheating on his wife with a transsexual model. As you may recall, I spent an entire season recapping their show, Kendra on Top, trying to find out what really happened, but at the end of the season had found out absolutely nothing. Seriously, we didn't learn one single thing from watching that entire season except that Hank cries a lot.
It's likely, however, that Kendra and Hank were saving "the good stuff" for 'Marriage Boot Camp.' Maybe, just maybe, we will finally find out for sure if Hank had sex with Sabrina London or not. (And at this point, do we even care anymore?!)
The trailer for the new season of 'Marriage Boot Camp' is full of drama. First, we see Kendra get into an argument with Tami Roman. Next, we see Aubrey and Travis accuse each other of cheating. (Are we supposed to know who Travis Garland is?)
We also see Lauren accuse The Situation of being a drug addict and ruining her family. (Isn't that kind of expected when you're dating the biggest douche from 'Jersey Shore?') Kendra is seen screaming at Hank that this is his "last chance," calling him a "sick f**k," and throwing her phone at him. And, of course, Aubrey O'Day is shown being overly dramatic.
Ah, love is in the air. 'Marriage Boot Camp: Reality Stars' Season 3 is set to air on WEtv in May! Click here to watch the full trailer!