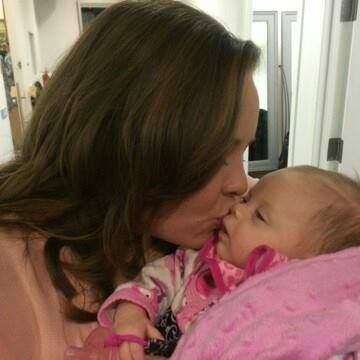 It's been nearly three months since Teen Mom stars Tyler Baltierra and Catelynn Lowell welcomed their second daughter, Novalee Reign, but the couple has managed to keep the baby's face hidden– until now! This morning Tyler and Catelynn posted the first photos of their baby daughter's beautiful face!
Fans got their first glimpse of Novalee's big blue eyes, thanks to a photo posted to Tyler's Instagram account.
"Our little tootie is almost 3 months!" he wrote in the caption. "I seriously can't get enough of her. Being a father is the best thing that has ever happened to me, every time I look at that face I fall in love more & more."
Catelynn posted a different photo of Novalee, with the caption, "Being your mom is the best thing in the world…you make my days brighter."
Even Catelynn's mother, April, got into the act, introducing her granddaughter to the world via her Facebook page. She posted a photo of Catelynn's little brother, Nick, holding the baby.
More photos began to appear throughout the day, including one of baby Nova with her godmother Kiki (who is actually a 'Teen Mom' show producer!)
It is not known why Catelynn and Tyler waited so long to show their daughter's face to the public, although generally they are obligated via their contract with MTV not to post photos until they get the OK from the producers. (Generally, MTV sets up a photo spread with a magazine– usually Us Weekly— to "introduce" the baby to the public. This was the case when Leah Calvert gave birth to her daughter, Adalynn. And, because The Ashley knows y'all are going to ask– no, the girls do not generally get paid to participate in those photo shoots that are set up with the magazines by MTV.)
No photo spread has been released, which is somewhat odd. However, Catelynn and Tyler surely received the go-ahead by MTV to release photos of the baby themselves.
We will get to see a lot more of Novalee when the new season of 'Teen Mom' premieres next Monday on MTV! (Click here to watch the Season 5 trailer!)
Click on the thumbnail to see the enlarged photos of Novalee Reign Baltierra!