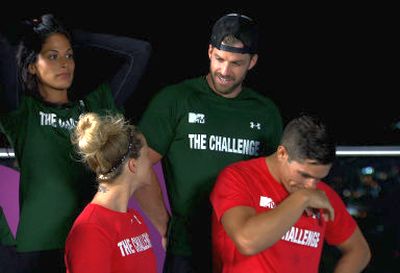 Sarah Rice made one of the biggest moves in the history of The Challenge last week when she blindsided her constant ally and good friend Johnny Bananas by sending him and his partner, Nany Gonzalez into the last elimination before the final. (The Ashley won't reveal what happened on last night's episode during the elimination since many of you probably still haven't watched it).
Anyway, Sarah's big move may have given her a much better chance of (finally!) winning a 'Challenge,' but it came with a price. Throwing Johnny into the elimination cost Sarah her "real life" friendship with him.
"He hasn't spoken a word to me since," Sarah told a fan on Twitter last night. "I hope [we can make amends.] I hope one day he can see my side. Until then…"
Johnny talked to MTV News about the incident, and certainly didn't hold back when revealing what he thought after Sarah's big move.
"It was utter disbelief," Johnny said of the blindside. "How could a friend who I've known on and off the show for eight years, and with whom I'd trained and strategized with before this season, pull such a deceptive move? I couldn't believe it then, and I have trouble believing it now."
Right before Sarah revealed that she was sending Johnny in, he had been patting himself on the back, congratulating himself for "picking the right pony" to align with. Johnny said he was shocked that Sarah ended up betraying him, and that he doesn't want to hear her reasoning for doing so.
"The bottom line: Sarah knows what she did was cowardly and double-crossing, and instead of just owning up to her actions, she continues to come up with ridiculous ways to justify them," he told MTV News.
When fans of the show started to attack Sarah on Twitter for "betraying" her friend, she defended herself.
"Any1 would be scared, or at least nervous, to go up against the guy who has won 5 times!" she wrote last night.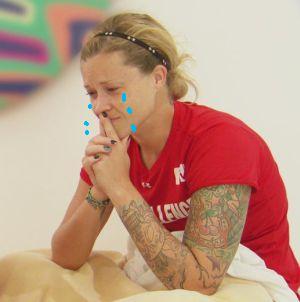 Last week, she explained that there is a big difference between "real life" and 'Challenge' life."
"With a little maturity, people will realize that reality TV isn't 'real life,'" Sarah tweeted on March 11. "Trying to win money on a GAMESHOW does not make me a bad friend."
Still, it looks like her blindside has permanently severed her real-life friendship with Johnny.
"Sarah showed her true colors, and it's unlikely I'll be able to trust her again," Johnny told MTV News, stating that he has never betrayed a friend to get ahead in a 'Challenge.' "And who wants to be friends with someone you don't trust? In the end, it only does me harm to hold on to a hostility to her. So I would say sure, I can forgive — but I won't forget."
(Photos: MTV)