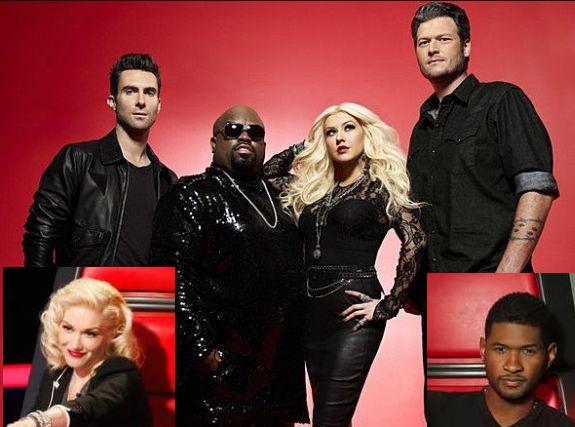 NBC is going to need to gather up a few more of those Big Red Chairs!
The network announced earlier this week that (almost) all of the former coaches of The Voice will return for a very special episode on Monday, April 27. Gwen Stefani (who coached during last season), Ceelo Green (who officially left the show after Season 5) and Usher (who coached his way to victory during Season 6) will all serve as advisers to the remaining eight singers left in the current competition. Absent from the reunion, however, will be Shakira, who coached during Seasons 4 and 6.
Gwen, Ceelo and Usher will join active coaches Blake Shelton, Adam Levine, Christina Aguilera and Pharrell Williams. The network has not announced whether the "bonus" coaches will work with one particular team, or if they will advise all of the contestants. 
On Wednesday, Gwen revealed that she will be working with at least Pharrell and Christina's teams.
"So excited! Back on #TheVoice next week to work with @Pharrell's & @Xtina's teams! Can't wait 2 C everyone! ❤️ my #VoiceFamily," she tweeted.
It's rather surprising that Ceelo has agreed to come back to 'The Voice,' as he was very adamant that he would not return after he officially quit the show in 2014.
"I'm not coming back, guys," he said. "I'm not coming back at all."
As for Gwen and Usher, both have indicated that they would like to return to the show as full-time coaches for upcoming seasons.
(Photos: NBC)