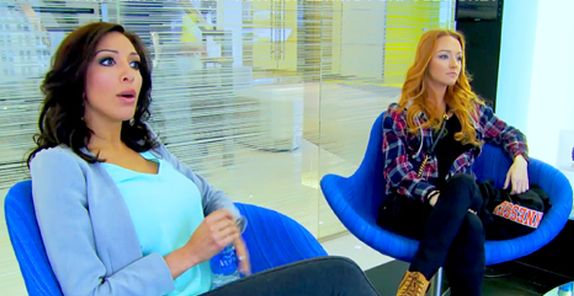 Last night's episode of Teen Mom OG got extremely heated when Farrah Abraham confronted her co-star Maci Bookout about the escalating tension between them. While the onscreen exchange ended with Maci getting up and leaving the room, Farrah's verbal assault of Maci continued last night on Twitter– and it had the whole 'Teen Mom' gang commenting.
(Think of it as a Jerry Springer Show episode with a grossly overpaid cast of characters!)
Below are some of Farrah's more aggressive tweets toward Maci.(The Ashley has kept the misspellings intact to preserve the "Farrah" aspect of them, and added her own comments in italics!)
"Maci is still scared #Lmao well when she stops lieing/being immature with the rest  might be hope of me associating w/them."
"I wonder if her book is full of lies like her mouth #Coward  #lier"  (The irony of Farrah calling anyone a liar hasn't been lost on The Ashley!)
"@Macibookoutmtv thinks she's strong&

#

bulletproof wish I had stronger women on my cast. (This was obviously a dig at Maci's new book, Bulletproof.)
"Should we all ask after the #MayPac hug if Maci is ever going to mature -enjoy watching yourself"  (I'm sorry…what now?)
"Happy I'm not rushing being engaged or having babies"
The whole time Farrah was barking at her via the Internet, this was Maci's reaction.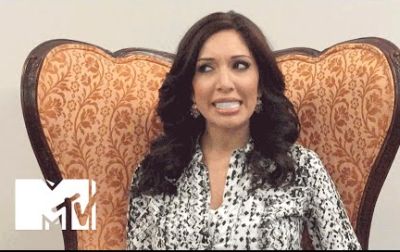 Anyway, the episode (and Farrah's Twitter attack) were enough to get some of the other 'Teen Mom OG' cast members to weigh in. Most seemed to side with Maci.
Even Ryan Edwards, Maci's usually comatose baby-daddy, was on Team Maci. He responded to one of Farrah's tweets about Maci.
"WTF does this even mean? I think when you take dick in your a** you shouldn't be able to talk about anyone," Ryan wrote.
Ryan's parents, Jen and Larry Edwards, also reacted to watching the fight scene.
"Omg Papa Larry just flipped his SH*T!!!  And he never comments on Teen Mom OG!" Jen tweeted. "I'd love to tweet what he just said but it's a little scary! And there is one thing you can't buy and that is CLASS !"
Catelynn Lowell managed to keep her thoughts off social media last night, but ended up posting a tweet that was obviously about Farrah this afternoon.
"Let's talk about being mature we don't sit on our phones and tweet about you 24/7 we forgot you even existed," she wrote.
One person did side with Farrah, however. Farrah's mother Debra Danielson posted a tweet about the Maci/Farrah spat in which she showed support to her daughter.
"#Macibookout busted by #farrahabraham ! Yeah! Calling out for all hear! Love #AmberPortwood and her integrity!" Debra posted, and then (strangely) followed it up by posting, "Be kind, compassionate, & forgiving to each other in the same way God forgave you! #teamfarrah Go!"
Yes, Farrah, please just…go….
Of course, The Ashley will be recapping Monday's episode of 'Teen Mom OG,' so stay tuned!
(Photos: MTV)