It's been quite the week for Teen Mom 2 stars Leah and Jeremy Calvert. Their lives are always somewhat of a Southern soap opera, but the last few days have been particularly eventful: Jeremy went to the hospital and MTV finally stepped in to force Leah to go to rehab.
Let's start with Jeremy…
The Ashley can confirm that Jeremy Calvert was injured in an off-roading accident in Ohio a few days ago. A source very close to Jeremy tells The Ashley that Jeremy was riding in his new RZR four-wheeler at an off-road park when he flipped the vehicle and got seriously hurt.
"He flipped about seven times and broke his collarbone," The Ashley's source told her.
He was taken to the hospital and treated for his injuries, according to the source, who added that he's since been released.
The accident isn't the juicy part of the story, though. Multiple people have confirmed to The Ashley that Jeremy's new girlfriend, Brooke, was riding shotgun when the accident occurred.
The Ashley is not releasing Brooke's last name in order to protect her privacy, but she will say that she is a college student from St. Clairsville, Ohio. She was once engaged and appears to have a young daughter. And, of course, she's a fan of 'Teen Mom!' The Ashley is not sure how Brooke and Jeremy met, but they have been seeing each other for a little while. She is the latest in a string of flings Jeremy has had since he and Leah split.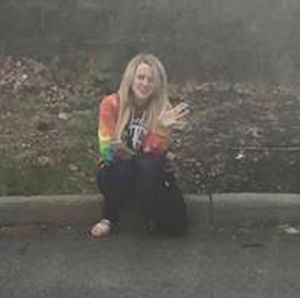 As for Jeremy's wife, Leah, she is currently in rehab. As The Ashley exclusively told you earlier this month, reports that Leah was in rehab in early May were FALSE. She was scheduled to go to rehab in early May, and even headed to the airport, but never got on the plane. The Ashley's production source tells her that Leah left for rehab last Thursday, and it is likely being filmed for the sixth season of 'Teen Mom 2.'
Leah didn't exactly go willingly, however. The production source tells The Ashley that the show's producers had to essentially force Leah to go. They used something in her contract terms to force her to go to rehab, and from what the source told The Ashley, producers basically refused  to continue their contract with her until she went.
The Ashley is not sure where Leah's three children are staying while she is away. Radar Online is reporting that Addy is staying with Leah's sister, Victoria, while the twins are with their father, Corey Simms. The Ashley can't confirm or deny this. In the days before Leah went to rehab, however, she had made a few questionable choices in terms of parenting in terms of where she was living with her children. (More on that later!)
The Ashley will keep you posted!
To read all of The Ashley's stories on Leah and Jeremy's divorce, click here!
UPDATE: The Ashley has been informed that Brooke was seriously injured in the crash with Jeremy. A friend of Brooke's tells The Ashley that Brooke is still in the ICU in a Pittsburgh hospital. As stated before, The Ashley will not release Brooke's last name in order to help protect her privacy during this hard time.
UPDATE #2: Since Radar Online has chosen to expose Brooke's last name, The Ashley can confirm that Jeremy's girlfriend is, indeed, Brooke Wehr.
(Photos: Facebook, Instagram)