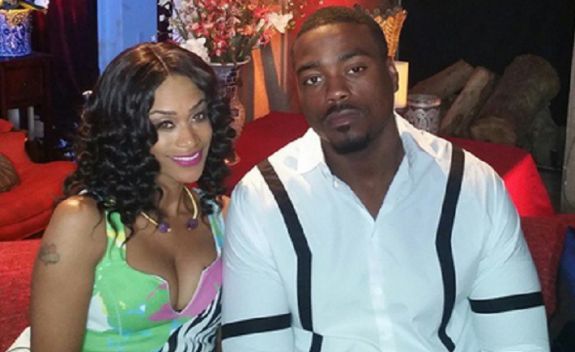 It's looks like Reggie Youngblood finally got his way.
Fans have been watching as Reggie and his girlfriend Tami Roman have argued over the topic of having children while on the current season of Marriage Boot Camp: Reality Stars. Reggie is eager to marry Tami and start a family, but Tami had been resisting, stating that she was done with weddings and kids. Things have clearly taken a turn, however, because yesterday Tami announced that she's currently pregnant with Reggie's child!
Tami shocked everyone during the Love & Hip Hop Atlanta After Party Live on Monday night when she announced her pregnancy.
"I feel as if it's the perfect place for me to let everybody know that I am granting wishes," she said. "I am six weeks pregnant!"
This will be 45-year-old Tami's third child. (She has two daughters with her ex-husband, former NBA player Kenny Anderson.) It will be 28-year-old Reggie's first child, however.
Tami's reluctance to start a family with Reggie was the driving reason behind the couple appearing on 'Marriage Boot Camp.' After Tami took a pregnancy test that turned up negative, Reggie was disappointed. Tami, who in addition to 'Marriage Boot Camp' has starred on The Real World: Los Angeles and Basketball Wives, seemed to change her mind on the baby issue during the most-recent episode, announcing that she'd like to have a kid with Reggie within the next three years. This announcement came as a surprise to all of the show's cast, especially Reggie.
The couple certainly got in a lot of practice before officially making a baby. In a recent interview with Hip Hollywood, they admitted to having sex at least two or three times a day.
"For me, even though I'm up in age, I still feel like I am young in spirit," Tami said.
The folks over at WEtv may not be thrilled that Tami spilled the pregnancy news while the 'Marriage Boot Camp' season is still airing, but she doesn't seem to care. Last night she thanked her fans for their support.
"Thanks for the well wishes everyone, it's been hard keeping it a secret, but we are thankful for all the love," she tweeted. "Now the journey begins!"
(Photo: WEtv)