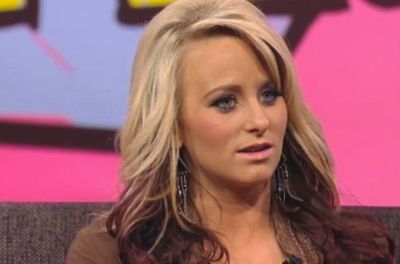 After spending about a month in rehab,  Leah Calvert is once a free woman! The Teen Mom 2 star was released from the 'hab last week and is currently looking for a place to live with her three daughters. Before heading to rehab, she was staying at her mom Dawn's house (and, as The Ashley told you so was Leah's much-older boyfriend, T.R. Dues!)
The Ashley hears that Leah and T.R. are looking to rent a place near Charleston together! In fact, a local resident tells The Ashley that T.R. has been busy looking at houses to rent that are big enough for Leah and her girls. The source says that T.R. has mentioned to potential landlords that MTV will be filming at the house should they end up renting to them.
"That has caused some problems, because people have seen the show and don't want to be involved with all the drama that comes with it," one source tells The Ashley.
As The Ashley told you in a previous post, a person very close to the situation stated that Leah is relatively broke, so it's no surprise that she's looking to get a place with her boyfriend. (The houses, etc. she shared with her ex-husband, Jeremy Calvert, were all in his name.)
One person that's not happy with the idea of Leah shacking up with T.R. is T.R.'s ex, Mandy Winnell. The Ashley recently spoke to Mandy, who is the mother of T.R.'s two sons, and she had some less-than-kind things to say about the 'Teen Mom 2' star.
"I did tell her tho to keep her distance from my boys and stay the hell out of my house!" Mandy told The Ashley of Leah. "I hope she knows what she's doing with him because I'm not far behind. I'll always be around and I'm not really nice…I do not care for her at all."
Mandy, who repeatedly stated that T.R. is a good guy and a great father to their sons, said that she was surprised to learn that T.R. was dating Leah.
"Leah isn't really his type in my experience. He's never dated a country girl," she said.
At 32, T.R. is much older than 23-year-old Leah. The couple met when T.R. was hired to be Leah's personal trainer in early May. They are currently still filming 'Teen Mom 2' Season 6, so it's likely we will get to see Leah's relationship with T.R. play out on screen. The cast will head to Los Angeles next month to film the Season 6 reunion, but it's not known yet if  T.R. will accompany Leah.
Click here to watch a just-released trailer for Season 6!