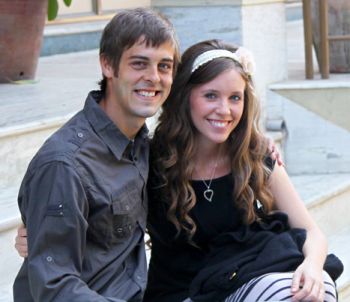 Jill and Derick Dillard are going international! The 19 Kids and Counting stars announced on Friday night that they will be leaving the United States next month to do mission work overseas for an extended period of time.
In a new blog post on the family's website, Derick explained that, despite his reservations of taking his young family to another country, he eventually made the decision to move. He explained that, while he and Jill had always known that they wanted to do long-term mission work overseas, he was surprised that an opportunity to do so came so soon in their married life.
"Earlier this year God brought about an opportunity much earlier than either of us was expecting," Derick wrote. "Several months ago a new opportunity arose for us to serve God on the mission field. Before us we had a choice to make that would undoubtedly change the trajectory of our lives forever."
Derick said he struggled with the decision on what to do, but ultimately decided that the family should take the trip.
"I (Derick) had a huge dilemma as the provider and protector of my little family. There were definitely more "unknowns" with the international option," he wrote. "After much prayer and seeking Godly counsel, we realized that taking this opportunity and moving overseas in order to serve is the best option for our family."
Right before the huge scandal involving Jill's brother, Josh Duggar, erupted, Derick and Jill shared the news of their trip with Jill's family. Earlier this month, The Ashley told you that Derick had quit his job at Wal-Mart in order to likely do some mission work. This blog post confirmed The Ashley's report.
"I recently left the company and we are currently preparing to leave the US and begin our new endeavor in July," Derick said. "We don't expect this new adventure to always be easy, but God never promised that following Him wouldn't have its challenges."
Since their son Israel is still very young, Derick and Jill will almost certainly catch a lot of flak from fans who are concerned that bringing a four-month-old baby to a likely third world country will be dangerous. However, Derick wrote that they know they were making the right decision.
"We are confident in knowing that there is no better place to be than in the center of God's will for our lives," he wrote. "We look forward to this adventure and the joy of serving Him in this new way. We wanted to share this with you and ask for your prayers as our family makes this transition."
In the post, the Dillards asked for donations for their ministry. As Radar Online reported, Jill and Derick recently incorporated their business, Dillard Family Ministries.
The Dillards did not state what country they plan to move to. However, their plan to leave in July will mean that they will likely miss many important Duggar family moments, including the birth of Jill's sister Jessa Seewald's baby in November.