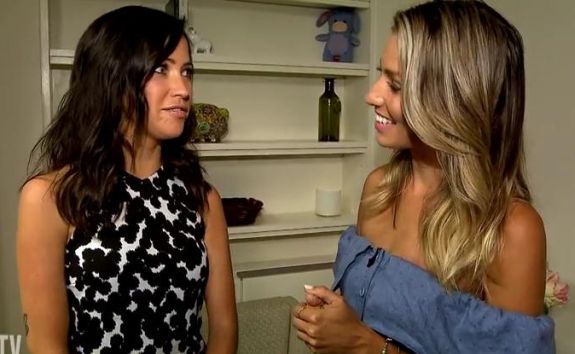 Warning: This post contains potential spoilers! Do not proceed past this point if you don't want to see them!
Kaitlyn Bristowe has just proved that she's a pretty terrible liar. The current Bachelorette star was recently asked in an interview to explain that post to her Snapchat that may have spoiled her entire season, and she totally choked.
As The Ashley reported a few weeks ago, a Snapchat posted from Kaitlyn's account showed her in bed with contestant Shawn Booth. On the Snapchat, which you can view here, a man that looks and sounds like Shawn (who could mistake that voice!?) is seen talking to Kaitlyn. Of course, the season was taped long ago, and there is no reason that Kaitlyn and Shawn should have been in bed together on June 12, unless she chose him at the end of her season.
Kaitlyn has kept quiet about SnapchatGate, until she was asked on camera about it during an interview with Extra TV.
"Did you just reveal that you chose Shawn?" the reporter asked Kaitlyn.
"Did I? No I was with Ryan Gosling," Kaitlyn says, hoping to play off the question by making a joke about how much Shawn looks like the actor. "We're friends."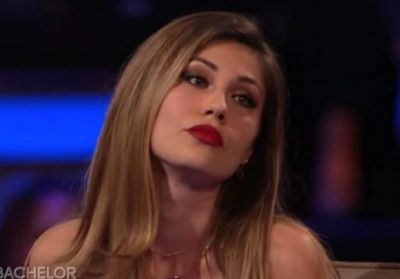 Kaitlyn nervously laughs before telling the reporter, "Yeah, I can't talk about it…I'm gonna give you nothing."
Of course, Kaitlyn is most likely in hot water for essentially spoiling the ending of her season. As The Ashley told you previously, past 'Bachelorettes' have stated that they can be sued for up to $5 million for revealing spoilers as to what happens at the end of their season.
It appears that SnapchatGate was an accident, and that Kaitlyn didn't realize that the video had been posted to her account until fans started tweeting about it. She quickly deleted it but by then it had been seen by enough people to spread the word.
ABC has not had any official comment on the Snapchat, which is even more suspicious. The network appears to be hoping that it will all go away by the season finale.
To read The Ashley's recaps of Kaitlyn's season of 'The Bachelorette,' click here!
Watch Kaitlyn's awkward interview about the Snapchat (and a few other things) below:
(Photos: Extra TV, ABC)