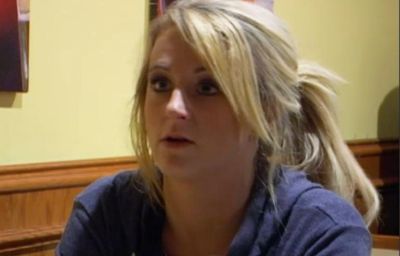 A sneak peek of the upcoming sixth season of Teen Mom 2 (directly addressed Leah Calvert's (alleged) drug problem.
In the clip (which starts at about the 28:20 mark of the recent "Catch Up Special), Corey and Miranda Simms confront Leah about her alleged drug habit. Leah appears to have called the meeting, telling her ex and his wife that she wants to work on herself and will need extra help caring for her and Corey's twin daughters, Ali and Aleeah.
Leah says that she has to go "do this therapy" at "a facility or something," although she doesn't mention that the facility is a rehabilitation center.
Corey asks her if she's going to a rehab, but Leah denies it.
"It's nothing, like, bad," Leah explains. "I'm going to be able to be a better mom."
Miranda, who had stayed silent during the conversation, finally speaks up, asking Leah if she's admitting that she hasn't been the best mom recently.
"I'm not going to say I was a bad mom," Leah says. "I deal with more than you guys see. You guys don't understand what I deal with at home."
Corey takes the opportunity to straight-out ask Leah is she takes drugs to deal with her problems.
"We understand what you deal with," he tells Leah. "What we don't understand is, is there something that you take to deal with your problems? Can you look me and Miranda in the eyes and tell us there's no drug problem?"
Leah denies having a drug problem, but Corey's not buying it.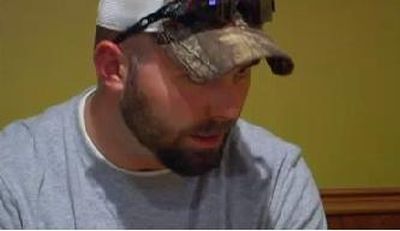 "I think I know there's a drug problem, but I think you're afraid to tell me," he tells her. "The first step is admitting that you have a problem, rather than beating around the bush about a problem you're making up so that you can avoid your real problem."
This, of course, angers Leah, causing her to yell, "Shame on you!" (She doesn't call him "Corey Tyler," unfortunately. That would have been an extra little slice of heaven for us. )
When Leah starts to get sassy with him, Corey tells her, "How about starting to be a mom? How about that?"
The Ashley broke the news that MTV basically forced Leah to seek treatment for her (alleged) drug problem, using portions of her show contract (particularly those dealing with payment) as a way of getting her to go. She was originally supposed to go to a treatment center in early May, and even made it as far as the airport to go, but refused to get on the plane. She eventually did go, and was recently released.
The new season of 'Teen Mom 2' premieres on July 9. Click here and here to watch other trailers and sneak peek clips.
(Photo: MTV)