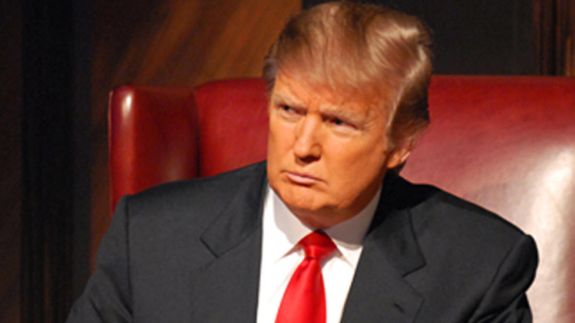 Donald Trump's big mouth just got him dumped from NBC and his long-running reality show, Celebrity Apprentice.
The network released a statement earlier this morning to announce that it is cutting ties with The Donald, due to the disparaging comments he recently made regarding immigrants.
"At NBC, respect and dignity for all people are cornerstones of our values. Due to the recent derogatory statements by Donald Trump regarding immigrants, NBCUniversal is ending its business relationship with Mr. Trump," the statement read.
There is good news for fans of 'Celebrity Apprentice,' however. NBC may have dumped Trump, but they did not dump his show.
"'Celebrity Apprentice' is licensed from Mark Burnett's United Artists Media Group and that relationship will continue," the network said in the statement.
Donald will no longer be a producer for the show, which was renewed by NBC earlier this year for a 15th season.
Donald has not yet responded to NBC's statement (but don't worry, that will likely soon change!) Donald's adult children, Ivanka, Eric and Donald Trump Jr., have yet to respond either. While the network did not state that Ivanka and Donald Jr., who have served as advisers on Celebrity Apprentice in years past, were also banned, it's unlikely they'd continue on the show without Daddy Donald. In fact, it doesn't seem like NBC even want them to.
"I don't believe we will continue with any of the Trumps," an NBC insider told TheWrap.
The network's ban on Trump will also mean that the Miss USA and Miss Universe pageants will not be shown on NBC, since they are produced by Donald Trump.
Donald made the remarks in question during a news conference in which he announced his bid for the GOP presidential nomination. In a nutshell, he basically stated that many immigrants who cross the border into America bring drugs with them and/or are killers and rapists.
UPDATE: Donald Trump has responded to NBC's statement.
"As of today, Donald J. Trump is no longer affiliated with NBC," his official statement read. "Mr. Trump stands by his statements on illegal immigration, which are accurate. NBC is weak, and like everybody else is trying to be politically correct— that is why our country is in serious trouble."
(Photo: NBC)