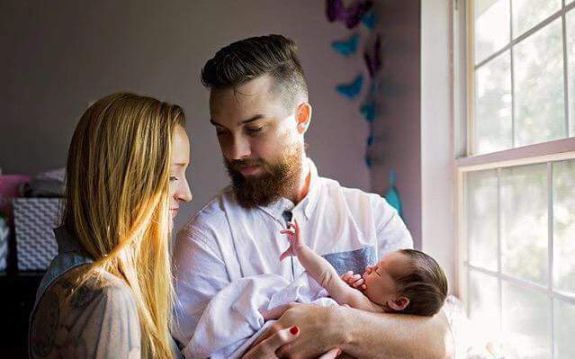 By Holly Rasmussen
Teen Mom OG star Maci Bookout has finally revealed pictures of her new baby daughter, Jayde Carter McKinney, who was born at 1:59 p.m. on May 29. The baby, whose father is Maci's boyfriend Taylor McKinney, weighed seven pounds and 15 ounces at birth. After a month of only sharing blurred pictures or pictures where the baby's face was obscured, Maci has finally decided it's time to reveal Jayde to the world.
She shared several photos on her Instagram earlier this week–but then later deleted them!
"Introducing the prettiest girl in the world! Jayde Carter McKinney," Maci captioned one family photo that is no longer on her Instagram account. There is also a photo of the proud new father, Taylor, kissing his daughter.
Sometime in the last few days, however, Maci yanked the photos of Baby Jayde off of her Instagram. There are several reasons she could have done this. MTV may have asked her to do so, as they were organizing some sort of reveal themselves. There's also the possibility that a magazine wanted to do a spread about Baby Jayde, and wanted the photos to be exclusive to that spread. It could also be that the photographer asked Maci to take them down, but that seems unlikely, given that the photographer still has some of Maci's photos up on her Instagram. Taylor's photo remains on his Instagram, however.
It seems the family used the same photographer, Brittany Shope, for their newborn photos as they did for their maternity photos that were shared earlier this year.
Now that Jayde is here, a wedding may be coming soon. Maci told People magazine in March that a wedding was definitely in the plans.
"We definitely want to get married and we've talked about it a lot," she said. "But we aren't trying to cram it all in at one time. After the baby comes and we get settled in with parenting two children, then that will definitely be our next step."
Hopefully MTV cameras will be there to capture all of the wedding festivities.
Congratulations to the new family of four, hopefully we will get to see Jayde Carter on our televisions sometime in the near future.
See more of the photos below: