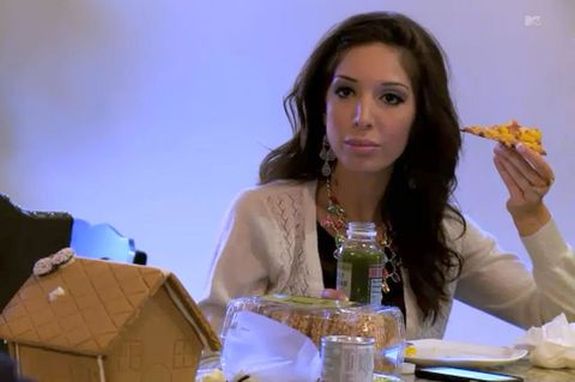 Farrah Abraham wasn't invited to the Bella Magazine Summer White Party this weekend but she didn't let that stop her from showing up to the notorious event and walking the red carpet!
The magazine, which hosts a big party in The Hamptons for the release of its summer issue every year, boasted that many celebrities would be attending the event (including reality star Lisa Vanderpump who was hosting). However, Farrah's name was not on the list of attending celebrities that The Ashley received prior to the event.
Despite this, the Teen Mom OG star showed up to the party, accompanied by her newly liquid-face-lifted mother Debra Danielson and a few others.
Radar Online reported that Farrah jumped on the red carpet and began to pose for photos, despite the fact that she wasn't an invited guest.
"[Party] publicists started yelling 'Stop, stop! You can't be here!'" a source told the site. "Most celebrities would be embarrassed, but Farrah kept posing and smiling. She refused to leave!"
Farrah and her posse were eventually booted from the event. (It is not known whether or not they left willingly.)
Later, Farrah took to her social media accounts to criticize the event's organizers for not allowing her and her gang of uninvited guests to stay.

"Thanks to the sponsors & Shame on @BellanycMagazine for woman hating at a woman ran event #PartyFowl disgusting," she tweeted.
(Let's all just appreciate that she wrote "Party Fowl" instead of "Party Foul." Is she paying homage to a drunk bird or something?)
On her Instagram, Farrah posted photos of her and her gang at the party, along with the caption, "Shame on [Bella Magazine]  for woman hating on a woman ran event. Learn to stop competing with other women. How low can you be. #PartyFowl"
Her new business partner, Heather Marianna, attended with Farrah and seemed to be oblivious to the fact that Farrah was not invited (or wanted) at the event.
"Everyone loved you there and everyone was taking pics," she tweeted to Farrah.
Earlier that day, Farrah and Debra attended a brunch party in the Hamptons sponsored by Ferrari. It is not known whether or not she was invited to that event. (She was not on the celeb list distributed by the event promoters to the media, however.)
It's possible that the Hamptons disaster could be shown on the next season of 'Teen Mom OG.' Farrah, Deb and Farrah's daughter, Sophia were seen filming with the MTV crew this weekend.
The Ashley has reached out to Farrah for her side of this story, but has yet to hear back from her.
(Photo: Twitter)