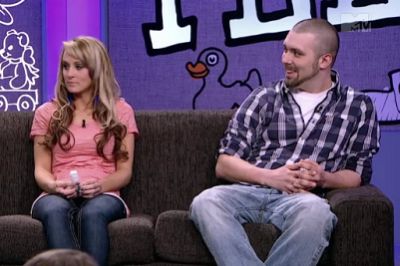 The sixth season of Teen Mom 2, which is currently airing on MTV, has shown star Leah Messer engaging in questionable–and sometimes dangerous–parenting methods with her three daughters. (Who could ever forget Leah's car full 'o' trash, or her midnight ravioli dinner fixin'?)
After watching Leah's poor parenting choices play out onscreen, 'Teen Mom 2' fans have been rumbling on social media that Leah's ex-husband, Corey Simms, should be using footage from the show as evidence that Leah is unable to care for their twins, Aleeah and Ali.
As The Ashley told you previously, the custody battle between Corey and Leah is not over, despite it appearing on the show to be resolved. In fact, Corey and Leah had a court date at the beginning of the month, and Corey is continuing to fight for full custody of the twins.
The Ashley has also discovered that there is a very good reason why Corey is not able to use 'Teen Mom 2' footage as evidence that Leah is an unstable parent.
Corey did try to use the footage in court recently. However, the evidence was thrown out by the judge, according to one of The Ashley's show insiders.
"Legally, Corey can't use the footage from the show against Leah, no matter how damning," the insider tells The Ashley. "Nothing in the show can be used in court by parties that have signed contracts. The reason is because in the contracts it says that MTV has the right to portray things however they want."
In other words, MTV is forthcoming that the show may be edited to make it look like a situation is worse (or better) than it is in reality.
"The contracts state that the show may not depict a whole truth," the source said. "So when Corey tried [to use the episodes] as evidence in court, the judge said no right off the bat."
Leah did not commit any crimes in the episodes. (Not brushing her daughter's hair and feeding her kids crappy food are not criminal acts.) This is the reason that footage wasn't admissible in court in Leah's situation, but was in the case of Amber Portwood. (During a 2010 episode of Teen Mom, Amber was shown on camera punching and kicking her then-fiance Gary Shirley. She was later arrested for her crime.)
Anyway, while The Ashley has not yet found out what resulted from the most-recent court hearing between Leah and Corey, Leah did write a cryptic post on her private Facebook page right after the hearing date. The post seemed to hint that the custody status had changed a bit.
"My sweet little girls," Leah wrote. "Mommy promises you the world, and that everything will be okay! I will ALWAYS look out for your BEST interest even when it's hard for me. I love you so truly and deeply!"
Leah is currently living with her boyfriend T.R. Dues and his two children. Corey, meanwhile, is expecting his first child with his current wife, Miranda Simms.
(Photo: MTV)