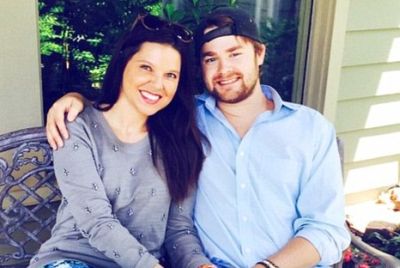 Amy Duggar didn't get a big made-for-TV wedding special on TLC (and she can thank her cousin Josh for that), but she did manage to sell photos and information about her nuptials to Dillon King yesterday to every media outlet that would buy them!
Amy and Dillon tied the knot on a farm in Bentonville, Arkansas, last night in front of about 400 guests. While no 19 Kids and Counting TV cameras were present, nearly every member of the famous Duggar family attended the festivities!
Of course, one member of the Duggar clan was not present at the wedding. Amy's cousin, Josh Duggar, is away at a rehab facility trying to make amends for his numerous recent sex scandals. His wife Anna did attend, a fact that Amy was quick to mention to People magazine. 

"I saw her before the ceremony and just gave her the biggest hug ever," Amy told the magazine of Anna, who is still recovering after finding out that Josh cheated on her via AshleyMadison.com. "That's when I got the most emotional. She told me to have just an amazing day."

This piece of brilliance courtesy of the @FreeJinger Instagram page!
Here's a breakdown of Amy and Dillon's big day.
Who Attended: While Josh wasn't there to see his Cousin Amy get hitched, it appears that the rest of the Duggar family was. Jill and Derick Dillard flew in from Central America to attend, and pregnant Jessa Seewald (and her husband Ben) also made an appearance. Duggar youngins Josie, Jennifer, Johanna and Jordyn all served as bell-ringers, as did Josh's daughter Mackynzie. Duggar patriarch Jim Bob was there, as was wife Michelle (who for some reason wore a white dress to the wedding), Grandma Duggar and many of the other Duggar kids.
Dress Details: As The Ashley reported earlier, Amy was able to use her '19 Kids and Counting' fame to snake a free wedding dress from an Arkansas bridal shop. Judging by the exclusive photos obtained by People, ol' Jim Bob and the boys were probably not even able to look at Amy, as her honkers were spilling out all over the top of the dress. While Amy's never professed to follow the same rigid modesty standards that the other Duggar girls follow, her dress garnered a great deal of negative comments on social media.
Wedding Theme: Amy and Dillon's wedding featured many things that are no-no's by Duggar standards. They offered a full alcoholic bar (and fruit water for the non-drinking Duggars), as well as a DJ for dancing. (The Duggars don't dance. In a past interview with E! Online, Michelle said that dancing encourages "sensual" feelings, and Jessa explained that today's dance music is "promoting sex, drugs, all that type of stuff.") The theme was country chic, and the couple chose to serve American comfort food to their guests.
After most of the Duggars had left, the wedding turned into a big dance party, according to Entertainment Tonight. Amy changed into a rose gold dress for the last part of the night.
Honeymoon: Entertainment Tonight reports that Amy and Dillon will spend a few days in Kansas City before heading to Cancun for their honeymoon.
According to a tweet posted by Jessa today, Amy and Dillon's wedding was a smashing success.
"Congrats to my cousin Amy! Your wedding was beautiful!!! So excited for you and Dillon!" she wrote.
To see more photos from Amy and Dillon's wedding, click here!