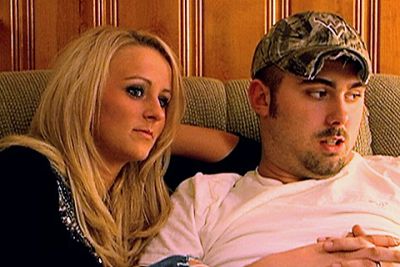 The Ashley has been dying to write about this but had previously been sworn to secrecy!
This morning In Touch Weekly reported that Teen Mom 2 stars Leah Messer and Corey Simms recently hooked up  in the back of Corey's work truck. Many 'Teen Mom 2' fans seemed to dismiss the story as idle gossip, but The Ashley can confirm that this story is TOTALLY TRUE– and The Ashley has all the details!
In Touch stated that the hookup occurred "recently" but The Ashley's sources tell her that it occurred while Leah was still married to Jeremy Calvert in late 2014. The magazine stated that the affair occurred in the back of Corey's truck, and while The Ashley can't confirm that exact fact, she was told by two very close Leah sources that it did take place while Corey was at work "reading meters."  (Whatever that means…)
One source tells The Ashley that Corey had downloaded a texting app on his phone so that he could  talk to Leah without his wife, Miranda, finding out. Miranda does, indeed, know about Corey's affair with Leah, and that has played a big part in why she has such bitterness toward Leah. (That played a major part in Miranda's blow up on Leah at the Season 6 reunion taping.)
"Corey regrets it, especially since Miranda is pregnant now," The Ashley's other source tells her. "But he had been talking to Leah for a while, so they both knew what they were doing. It wasn't just a random mistake. But Miranda forgave him."
Leah even seemed to be hinting that something had gone down between her and Corey in a Facebook rant posted in December.
The Ashley has no clue if Leah and Corey hooked up more than once during this time, but she can confirm that it definitely happened at least once! Jeremy knew about the affair as well, which certainly added to his decision to divorce Leah.
The scenes we are watching on 'Teen Mom 2' right now were filmed in the Spring of 2015, after the hookup took place.
While this story may seem too juicy to be true, The Ashley is only confirming it because she has two incredibly strong sources who have told her about it. She would never confirm something like this unless she was very sure.
Leah, Miranda and Corey have yet to comment on this story via social media.
(Photo: MTV)