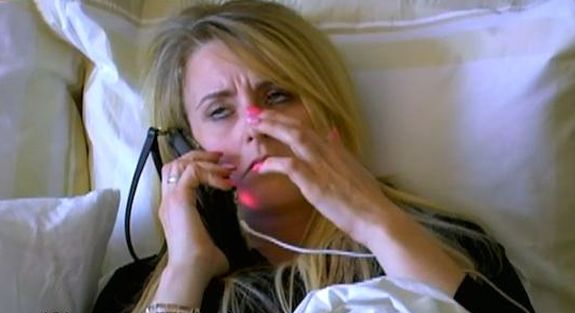 Gather 'round kids; fetch yerself a pile of Sour Patch Kids and a Lunchable to feed on because it's time for another episode of Teen Mom 2! We've had quite the season so far, what with all the rehabbin', arrestin' and back-of-the-police-car hollerin' that's gone on.
This episode starts off in Delaware, where Kail and Javi are heading to Isaac's first soccer game. Since Rappin' Jo and his knocked-up girlfriend Vee recently moved into town, they're able to go to the game as well. Jo arrives, folding chairs in hand, and decides to make a statement by setting himself and Vee far from Kail's posse. He's obviously trying to put some distance between him and Kail. (Either that or he's just trying to get himself set up a few feet closer to the snack bar!)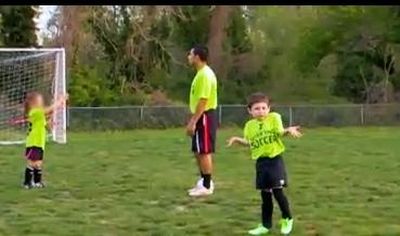 Kail is screaming and getting really into the game, unlike Isaac, who seems totally uninterested. Jo comments that Isaac may be more of a scholar than an athlete, which seems kind of harsh, considering it was the kid's first game.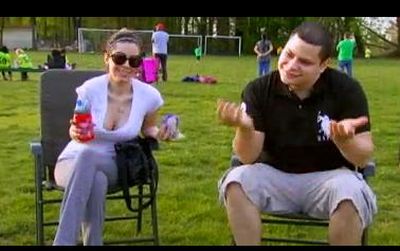 Jo thanks Vee for coming with him to the soccer game. She comments that she came because she had nothing better to do. (Now that she's knocked up and away from New Jersey, eating Fritos at a kid's soccer game with Jo is the most pressing engagement she has in her schedule!)
In the Carolinas, we start off at the courthouse. (It really wouldn't be a 'Teen Mom 2' recap if The Ashley didn't get to type that sentence!) Nathan had to face the charges stemming from his ring-wrestling match with Jenelle a few episodes back. Jenelle tells us that the charges were dropped against Nathan. While that's good news, Jenelle is unhappy because she recently found out that Nate is seeing another girl.
Trusty Krista drags her nearly lifeless body into a random coffeehouse so she can listen to Jenelle ramble on about how she desperately wants to once again be bumping uglies with her goon-of-a-baby-daddy, Nathan.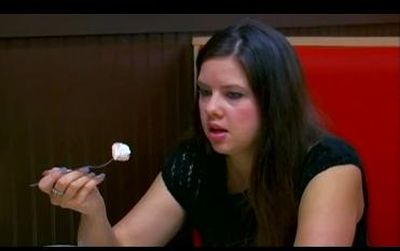 Jenelle is also angry that she's been stuck taking care of Kaiser for the whole last month, while Nathan's been out having a laa dee dah time working out at the gym and hitting on anything in a sports bra.
Krista's trying to listen to Jenelle's story, but she's also busy trying to stuff in as much free breakfast scramble as possible before the scene ends. Get that free grub, girl!
Jenelle is determined to get Nathan back, however. After all their relationship is just stellar. Jenelle does admit that there are a few cons of the relationship, though: Nathan's controlling, they don't trust each other, he's mean to her, and is verbally abusive. But, you know, other than that…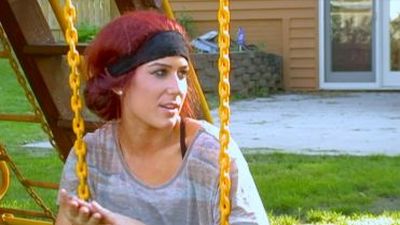 We move over to South Dakota, where Chelsea is hanging out with her menagerie of animals and South Dee-kot-ah Mary. They talk about Aubree's upcoming preschool graduation, and, of course, Adam. (For some reason, Chelsea's got her hair all rolled up like a Golden Girl heading to aerobics class during this scene.)
Chelsea is tired of Adam trying to make her look like she's keeping Aubree from him. Luckily, Aubree has Cole in her life to provide consistency.
Chelsea isn't sure if Adam will show up to Aubree's preschool graduation. Even Aubree is skeptical that ol' Adam will stagger in early enough to see her in her cap and gown.
Aubree tells Chelsea that Adam will be there, "if he remembers."
Well, that just rips your heart out, doesn't it?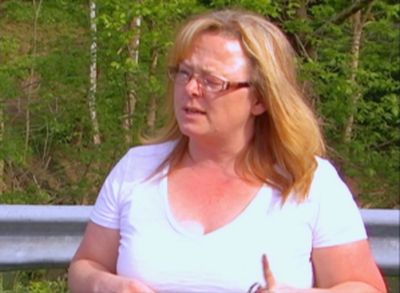 Finally, we check in with Leah, who is staying in a hotel until her cot at the 'hab is ready. Meanwhile, Corey meets up with Momma Dawn to exchange the girls. Dawn says she's fixin' to take the youngins to see their mommy in rehab, but refuses to tell Corey where Leah is getting her supposed "stress and anxiety treatment."
Corey seems to be tired of "Leah and 'ems" games. He tells Dawn that if she refuses to tell him where the girls will be going, then he won't allow them to go. Mother's Day is coming up, but Corey isn't worried about that. (After all, who knows if Leah will even be able to keep her eyes open long enough to see that the girlseses were there!?)
After her meeting with Corey, Dawn calls Leah all frantic.
"I's been torn up all evenin'!" Dawn exclaims to her daughter, who, by the way, looks about two milligrams away from passing out until Father's Day.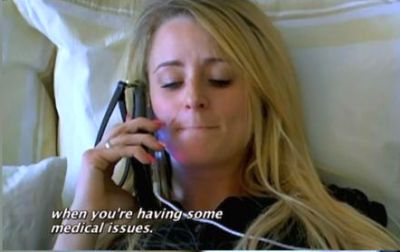 Dawn tells Leah that Corey's refusing to bring the babies to the 'hab for Mother's Day, and is not supporting Leah while she's having "medical issues."
For the sake of time and space, The Ashley's just gonna let that one slide…
Anyway, Dawn's nerves are "all tore up," y'all, so she tells Leah that she's suspectin' that dern Corey Tyler ain't gonna give Leah back them babies when she leaves rehab! The call gets Leah all flustered.
In Delaware, Kail and Javi are talking about how bitchy Vee was acting toward them at Isaac's soccer game. However, since she is carrying the spawn of Jo in her belly, they give her a pass. Later, Jo calls Kail and they agree to meet to discuss Isaac's schedule.
Jo arrives at Kail's house to discuss the latest Isaac news. Kail hopes to keep the custody schedule the way it is and Jo agrees. Kail wants Jo to pay more in child support, but Jo is hesitant to take it to court. He isn't able to pay more, but agrees to have a talk about it with her. Kail apologizes for being mean to Jo in the past, and Jo agrees that he was at fault too.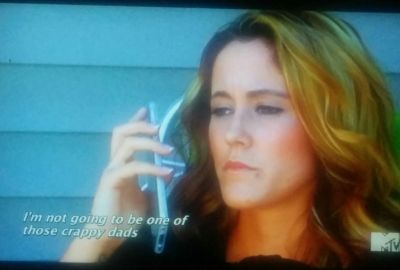 Meanwhile, Nathan is hanging out with his friend Josh after having his charges dropped. Nate admits that his relationship with Jenelle is toxic. His relationship with his new gym galpal, however, is escalating. He says he has feelings for his new girl so he doesn't know what to do. (After all, he has a kid–and an MTV contract–with Jenelle, but the other girl doesn't wrestle him on toilets. It's a tough call.)
Nate hopes that he and Jenelle can manage to co-parent Kaiser without having the cops called every other day.
The next day, Jenelle calls up Nathan to see "what they're going to do" with Kaiser.
Good Lord, he's not a corn on the bottom of your foot, guys!
Jenelle wants Nathan to shell out some cash for Kaiser's daycare, but, of course, Nathan's broke. (Protein shakes aren't cheap, guys!) Jenelle argues that she buys Kaiser his clothes, food and most likely the helmet used to protect him from when his parents are wrestling around. Nathan promises that he's not gonna be one of those "crappy dads" and swears that he will eventually cough up some cash to pay for his son's care.
Jenelle is still begging Nathan to be with her, but Nathan says that being with Jenelle makes him hate himself.
Nathan, ever the prize, brings up that he has another girlfriend now. Jenelle is beside herself with grief, given that Nate was able to move on so fast after being with her for two years.
"I have not touched another man's skin for two years!" she wails. "TWO YEARS!!!!"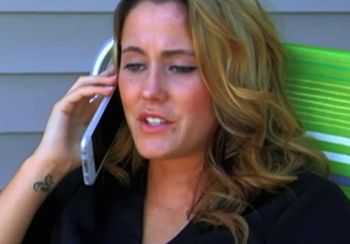 Raise your hand if you had a good chuckle over that last line. Just me? OK.
Nathan argues that he and Jenelle were "literally killing themselves" while they were together. Wow, Nathan's actually making a lot of sense here. (Of course, knowing that he was most likely saying these sensible things while wearing a cut-up wetsuit top kind of voids his sensibility.)
In West Virginia, Leah's alarmed about the babies being snatched out from under her by Corey Tyler. She calls her law-yer who tells her that she has a valid concern. She tells Leah that she best run her butt home so that Corey doesn't accuse her of abandoning those babies! Leah decides to leave before ever making it to rehab (just like The Ashley told you!)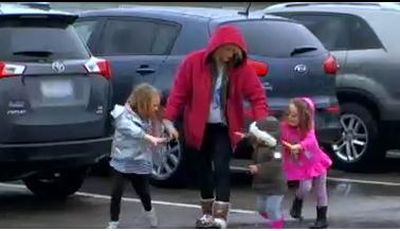 After flying home, Leah's wrangling all three girlses while at Ali's physical therapy appointment. Meanwhile, Corey tells his dad that he never told Dawn that he was planning to keep the girlseses away from Leah. He's tired of Leah's hi-jinks, and is angry that Dawn totally screwed up Leah's journey to "find herself," which, in turn, confused the kids.
The next day, Leah drives her trashmobile to a parking lot, where she's depositing the girlses with Corey. She's got her hair all fixed up in some sort of ponytail tower, looking like DJ Tanner circa 1988.

Leah tells Corey that she's heading back to rehab therapy, but this time it will all be legal and OK'd by the lawyers. She tells him that she came back the first time because Momma Dawn's "torn up nerveseses" suspected that Corey was going to steal her kids. Corey tells her that he had no intention of swiping the young ones from her.
In South Dakota, it's time for Aubree's graduation. Adam arrives (with sleeves on his shirt!) and avoids the entire Houska clan. Adam congratulates Aubree on making it through preschool, which, let's face it, is probably more than Adam could do at this point.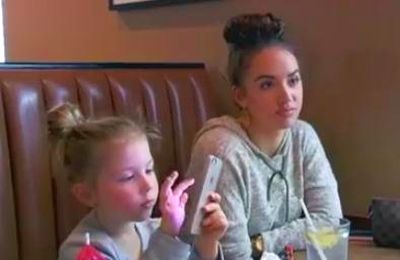 Later, Chelsea takes Aubree to lunch with the faaaabulous Landon and some random chick. Chelsea tells the gang that Cole is going to move into her cabin, and that Aubree wants to call Cole "Dad" when he moves in. Aubree thinks that Cole is a better dad than Adam is. Aubree also knows that Adam was in jail–twice! (Oh kid, that's just the tip of the law-breaking iceberg!)
In Delaware, Kail and Javi are going on a relaxing afternoon drive. We know that when these guys get into a vehicle, all hell usually breaks loose, and they don't disappoint this time. Kail tells Javi about her porch meeting with Jo, and Javi isn't happy to hear that Rappin' Jo Jo was spitting rhymes at his house while Javi wasn't there. Javi doesn't give a reason but insists that Jo stay away unless he's home.
In Carolina, Nathan is desperate for Jenelle to "babysit" Kaiser. Jenelle isn't sure she wants to take on that load, but Nate just won't leave her alone. They are driving next to each other, but Jenelle is refusing his calls. Jenelle thinks that Nate is following her so she calls poor Krista to let her know the latest on-the-road details.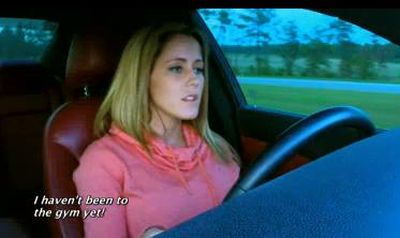 She finally picks up the phone and Nate demands that she come pick up the kid. He then begins screaming that HE HASN'T EVEN BEEN TO THE GYM YET!
Wait, what?! Well, no one told me that! Hell, Nate, I'll watch Kaiser! I mean, this is the gym we're talking about. We can't have Nate miss his leg day!!
Jenelle is unmoved by Nathan's anger. Nathan's still driving around, trying to find a spot to unload Kaiser.
"My gym time is my GYM TIME!" he hollers, adding that he's already "wasted a hundred miles of gas" doing this little game of cat-and-mouse with Jenelle. He's angry that Jenelle has "pinned Kaiser" on him and caused him to miss his gym sesh.
Jenelle is starting to get angry. After all, Nate is still boning the random gym broads, and she got stuck taking care of Kaiser by herself for a whole month.
A WHOLE MONTH! By herself!!!
They really should just put a tape of this episode inside Kaiser's baby book. These are the special moments he'll want to cherish forever.
Until next week, kids!
To read The Ashley's recap of the previous episode of 'Teen Mom 2,' click here!
(Photos: MTV)