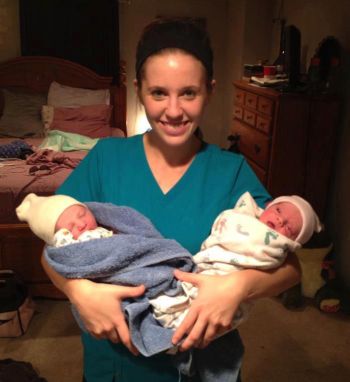 By Holly Rasmussen
Former 19 Kid and Counting star Jill Dillard may become the first woman in the Duggar family to have a career outside of wife and baby machine!
Fans watched Jill and her sister Jana serve as apprentice midwives often on '19 Kids and Counting,' even assisting in the delivery of their sister-in-law Anna Duggar's deliveries.
After Jill married Derick Dillard in 2014, however, she stopped mentioning her goal of becoming a midwife, leading many fans to believe that Jill had abandoned her career goal in favor of being a wife and mother.
Yesterday, Derick revealed on the Dillard family blog that Jill is still studying and will be taking a test to become a certified professional midwife soon.
"I am so proud of all the hard work she has put in over the years to prepare to be a midwife," Derick wrote of Jill. "As it should be in all Christian's lives she is using this skill as a means to an end, and that end being the spread of the message of the greatest love story ever told, that is, the work of Jesus Christ upon the cross so that all people who believe what she said and choose to make him the Lord of their life will enjoy life with him forever in paradise."
During a 2013 episode of '19 Kids and Counting,' it was stated that Jill had already completed 3,000 hours of training as a midwife.
Jill, Derick and their infant son Israel relocated to Central America in June to do mission work but they've already made two trips back home since then. They came home last month so Jill could participate in a TLC special about victims of childhood sexual abuse.  The family was also back in Arkansas this past week so they could attend Cousin Amy Duggar's wedding (and probably praise Jesus she isn't living in sin anymore).
In the blog, Derick mentioned that he and Jill took care of some chores during this recent trip back home.  They've apparently just now finished moving things out of their house in Rogers, Arkansas. (Perhaps it is being readied for Anna Duggar and her kids to move in, now that Josh Duggar is in rehab for his sexual addictions?)
Last weekend, Anna was seen in public for the first time since Josh's second sex scandal broke last month. She and her four children attended Amy's wedding alongside the Duggar family.
Watch Jill and Jana talk about their midwife training in this clip of a 2013 episode of '19 Kids and Counting.'
(Photo: Duggar Family Blog)