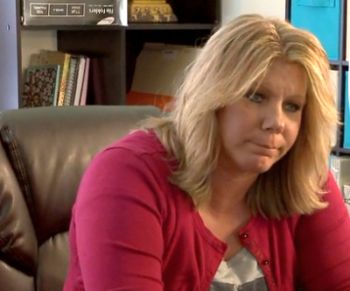 By Holly Rasmussen & The Ashley

Back in August, The Ashley told you that Meri Brown had been a victim of catfishing. Now the Sister Wives star has come forward to confirm the news and discuss what happened.
Meri, who is no longer legally married to her spiritual husband, Kody Brown, thought she was having an online relationship with a man named Sam, but the person she was speaking with during that time  turned out to be a woman!
In a statement to Us Weekly, Meri admitted to the online affair.
"During an emotional and vulnerable time earlier this year, I began speaking with someone online who turned out to be not who they said they were," Meri said in a statement. "I never met this person and I regret being drawn into this situation, but I hope because of it I can help others who find themselves in similar circumstances."
Meri's statement only hints at what really happened. It all started when a "man" named Sam Cooper began tweeting Meri from the Twitter handle @notbatmanyet. Sam seemed to have it all: he was good looking, owned several businesses and was there for Meri during the time she was legally divorcing Kody.
The two began corresponding online and via phone. In fact, Meri often flaunted their relationship on Twitter via cryptic tweets.
Meri trusted "Sam," became friends with some of "his" friends and, according to All About The Tea, even took a trip to Disneyland with his friend, Lindsay, who was allegedly Sam's assistant. Meri was supposed to meet Sam on that fateful trip as well, but it never happened.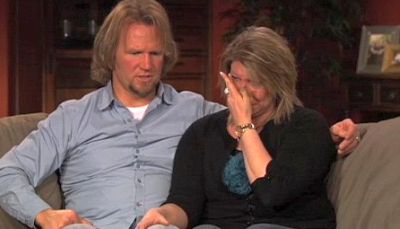 At one point, "Sam" hinted that he and Meri were engaged and that Meri was planning to leave the Brown family for good. (This was happening during the time that Meri was filming the season of 'Sister Wives' that is airing now.)
Facebook groups began popping up to try to figure out what was really going on between Meri and "Sam," and it began to get messy. Several of these devoted online detectives discovered that the woman behind "Sam" has a history of catfishing online, and that she was able to successfully change her voice to convince Meri that she was actually male instead of female.
The sleuths eventually discovered that the woman who had met Meri as "Lindsay" was the same person pretending to be "Sam."
Got all that?!
In an attempt to convince nay-sayers that "he" and Meri did have a real relationship, "Sam" posted a few of the voicemails that Meri left him during their affair. In a particularly juicy voicemail dated June 30, 2015, Meri seems to be convincing "Sam" that he is much better than that husband of hers, Kody.
"I wasn't comparing you in any way…guess what? If I were comparing you, you win on all counts. You win on all f**king levels!" a person who is undeniably Meri Brown tells "Sam" in the voicemail. "I think you're taller, better looking…very much better looking…kinder, sweeter; you care about me and you want me."
In that same voicemail, Meri tells who she believes to be Sam, "We have something more passionate than I've ever felt." (Listen to more of Meri's voicemails left for "Sam" by clicking here.)
In a statement to People magazine, Meri said she was sharing her story in hopes that it will help other people who have been catfished.
"I hope because of it I can help others who find themselves in similar circumstances," Meri said. "Throughout this ordeal, my family has supported and stood by by me. I am grateful to them for their love and strength through this difficult time."
Since Meri admitted to being catfished, neither Kody nor his other three wives—Janelle, Robyn and Christine—have spoken about the incident on social media. Meri and Kody's daughter, Mariah, has also been silent about the catfishing of her mother.
To read Holly's 'Sister Wives' recaps, click here! 
(Photos: TLC)