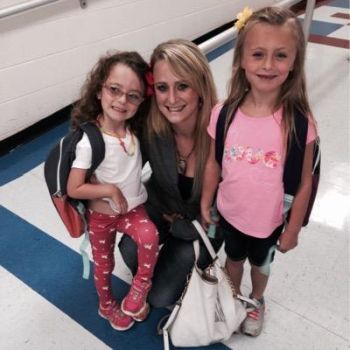 Leah Messer has spoken!
The troubled Teen Mom 2 star has given her first interview following the reports that she lost primary custody of her twin daughters, Ali and Aleeah, to their father, Corey Simms. In an interview with Us Weekly, (that was almost certainly set up by MTV), Leah admitted that the rumors were true, and that she now only has her twins on the weekends.
"It was like a slap in the face," Leah told the magazine of the moment on August 24 that a judge awarded Corey primary custody. (The date that the custody switch actually happened is a bit unclear. Us Weekly states that August 24 was the date that Corey went to court for custody, but that October 7 was the date Leah officially lost primary custody.)
After the hearing, The Ashley can confirm that Leah went home and cryptically vowed (via an August 24 Facebook post) to take action against what had just happened.
"God grant me the serenity to accept the things I cannot change, the courage to change the things I can, and the wisdom to know the difference…and the willingness to take ACTION!"
Leah's prayer choice is curious; she chose to post the Serenity Prayer, which is commonly taught in recovery groups for those overcoming addiction.
Leah told Us Weekly that after the judge's ruling, she filed a motion to have the court reconsider the custody decision. One of the reasons the judge ruled in Corey's favor was that Corey said Leah was failing to get the twins to school on time– and sometimes didn't take them at all!
Of course, Leah denied that this ever happened (except for one tardy, of course). She said she set up a meeting with a school superintendent on October 17 and charged in with "time-stamped photos" showing that the girls were not tardy to school. Leah insists it was all a mistake and that the school will be taking off the tardies from the girls' records. Just one day before, she posted a rant on Facebook that was almost certainly aimed at her ex-husband Corey.
"I'll always find a way to dodge your low blows and I promise you won't push me until I break," she wrote. "I'll never fall down! I'll be standing stronger than ever!"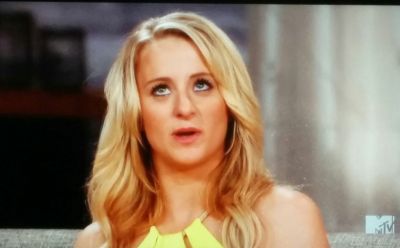 In early October, Leah cryptically ranted on Facebook about something that was going on with her twins. (It appears that the girls may have been questioned about something.) Her friends and family urged her to contact the school board and department of education about what happened.
"It truly amazes me how adults can sit back and taunt children questioning them to only benefit themselves!" Leah wrote on October 7. "Misery loves company and I'm not even gonna join, but I will say it pisses me off."
The new issue of Us Weekly features Leah on its cover. The Ashley is told that in the interview, Leah also admits to "hooking up" with Corey two months after his June 2013 wedding to Miranda (but does not admit to their back-of-the-truck tryst in 2014). In the article, Leah reportedly states that she thinks Corey has an ulterior motive for taking custody of the girls.
The Ashley will post more when she has new info on this.
To read what Leah's 'Teen Mom 2' co-stars had to say about Leah losing custody, click here!
(Photos: Twitter, MTV)