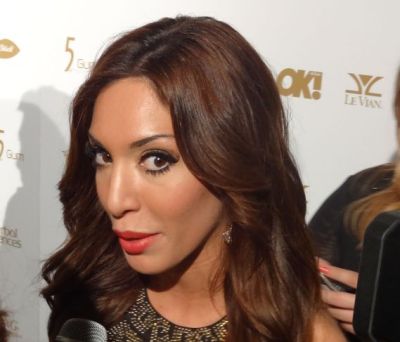 By Holly Rasmussen
Get ready for another Teen Mom baby! "Back Door Teen Mom" Farrah Abraham is planning to add another child to her life. No, she's not pregnant. (You can't get pregnant by having sex the "Farrah" way, after all.) Farrah has announced that she is planning to adopt a baby.
The reality star took to her Instagram account on Monday to let the world know of her plans to add another little one to her crazy life.
"Let's embrace the power and beauty that family brings with adoption. There are over 145 million orphans in the world. I grew up with all of my neighbors being adopted and in foster care and I've seen it mean the world to them to have loving and caring homes 'a family.'
"I hope soon Sophia and I can make a world of difference by bringing home a baby brother or sister for Sophia," she continued. "I always have been passionate about adoption as it means so much to me, my family, my community, my church and my heart thank you to all the parents who have adopted and to all the amazing children with their loving families. God bless," Farrah wrote.
Farrah's Instagram followers were quick to point out that Farrah doesn't really spend much time with her daughter Sophia as it is. (Over the past four weeks, Farrah has taken trips to Los Angeles and Las Vegas, and she's about to leave for the UK.)
"Take care of the child you have before adopting another," one follower wrote.
"How can you talk about adoption if you can't raise your own child?" another wrote. "You used to leave your daughter with your mom all the time…Raising a kid like that is something very easy."
Who could forget when Farrah famously said Sophia wasn't with her because Sophia had her own life and was "doing her own thing?"
At this point, fans are skeptical to believe anything Farrah says, given that in the past she has stated that she planned to open a restaurant, become a plastic surgeon, etc. It seems as if she has a history of making these declarations and then not following through. (In this case, that may be a good thing, however!)
We will have to wait this one out to see if Farrah adds another member to her family. She is currently "on again" with her on-again/off-again boyfriend, Simon Saran, but it's not known what he thinks about Farrah's plan to adopt. Judging from what we saw of him on the last season of 'Teen Mom OG,' he didn't seem to be very patient when he was around Sophia.
Farrah is currently filming the next season of 'Teen Mom OG' so we may see this topic discussed on the show.