UPDATE: The Ashley has just confirmed via a very good Teen Mom 2 source that this story is mostly FALSE. The Ashley's source tells her that Corey has not filed anything in court against Leah in regard to the twins' missing money. 

"Corey has not taken any action at all against Leah," The Ashley's source tells her exclusively. "He has no idea where this story came from and does not have a court date set up to discuss the issue."
The source tells The Ashley that the story may have a few specks of truth in it, however, in regard to the twins' missing money.
"Currently, Corey doesn't know where that money is," the source said. "He has not been able to locate it yet."
In case you missed the original story posted earlier today:
Last December, In Touch Weekly released a story that stated that Teen Mom 2 star Leah Messer had allegedly been caught taking money out of the trust fund that had been set up for her daughter Ali. According to the magazine, Leah had taken thousands of dollars out of Ali's bank account. (It can be assumed that the trust fund was made up of money that Ali has received from MTV for appearing on 'Teen Mom 2.' Each child is paid individually for appearing on the show.)
"The account was totally drained," a source reportedly told In Touch. "The money is supposed to go to college tuition, or in Ali's case, medical needs. But Leah took all of it."
At the time, In Touch stated that Ali's father (and Leah's ex-husband) Corey Simms, was furious when he found out what Leah had allegedly done. Today, the magazine claims that he's finally doing something about it, after finding out that Leah allegedly took an additional $10,000 from the account belonging to her other daughter, Aleeah.
"Corey is taking Leah to court," the magazine's source said. "He is furious that she took that money. That was the girls' money — not Leah's. Corey's going to do whatever he can to make sure it's put back."
The magazine claims that a court date has already been set. (The Ashley is working to confirm this.)
While The Ashley is not confirming that Leah did, indeed, take money from her girls' accounts, she can confirm that it is possible that she could take it. In December, The Ashley explained how the payment of the children on the show generally works:
MTV  is not required to set up any type of trust fund for the 'Teen Mom 2′ kids, as reality TV is not covered under Coogan Laws or any other act, but they have done that anyway. (A Coogan account requires the parents of a child actor to set aside at least 15% of their child's entertainment earnings into an account for the child when he or she turns 18. Unfortunately, however, kids on reality TV shows are not considered "actors," therefore the Coogan Laws do not apply. Also, those laws only apply in certain states; Leah's home state of West Virginia is not one of them.)
However, MTV (or the government) does not prevent the parent (or whoever is set as the "trustee" of the account until the child turns 18) from withdrawing money, provided it is for "the benefit of the child."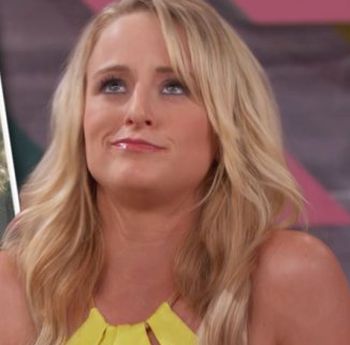 Another 'Teen Mom' source told The Ashley last year that not all of the 'Teen Mom 2' kids have the same kind of account, due to them all living in different states.
Since Leah lives in West Virginia, and has since the beginning of the show, it is likely the accounts for the girls are UTMA accounts. So, while The Ashley is definitely not confirming that Leah took any money, she is confirming that it would be possible for her to do so, if she was named as the trustee of Ali's UTMA account.
When the allegation of her taking Ali's money hit the media last year, Leah did not deny that she had taken Ali's money. However, she claimed that she had not spent it, but simply moved it to an account that she claimed Corey "wasn't looking in."
She also stated that she had put the girls' money into CDs, but apparently, she has not been able to prove this to Corey since he is taking her to court. In the past, Leah has admitted to having problems controlling her spending.
The status of the account belonging to Leah's third daughter, Addie, is not known.
This will be just the latest in a string of court cases involving Leah and Corey. Recently, Corey was awarded full primary custody of the couple's twins by a judge.
Both Leah and Corey have been quiet on social media in regard to this story. The Ashley will update this story when more information becomes available.
(Photos: Facebook, MTV)