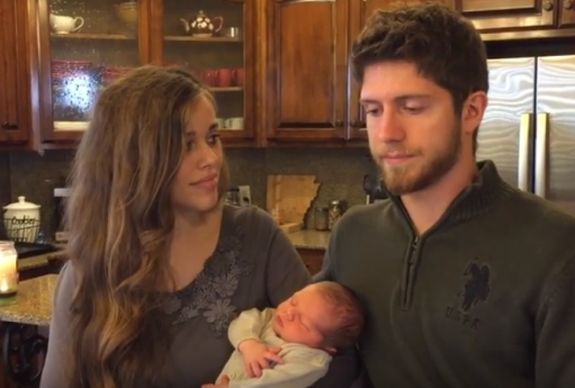 Former 19 Kids and Counting stars Jessa and Ben Seewald welcomed a baby boy last Thursday night and, although they have posted numerous photos (and done a big interview with People magazine) since the baby's birth, they had yet to announce the baby's name. A few days ago, Jessa claimed they hadn't made the announcement yet because she and Ben had not yet decided on a name for the boy, who is the couple's first child.

Tonight, however, Jessa and Ben finally announced what they have decided to call their son. In a TLC exclusive video posted to the Duggar YouTube channel, Jessa and Ben have revealed that their son has been named…
Spurgeon Elliott.
No, that is not a misspelling, unfortunately.
"We've been working on deciding on a name and we finally figured it out," Jessa told the cameras.
Ben then went on to explain that he and Jessa chose the name "Spurgeon" because it's the last name of a famous preacher.
"Charles Spurgeon was a preacher that lived back in the 19th century," Ben said. "He had a big impact on our lives and his writings and sermons and books are still around today."
According to his Wikipedia page, Charles Spurgeon "remains highly influential among Christians of various denominations, among whom he is known as the 'Prince of Preachers.'"
The baby was given the middle name "Elliott" because it was the name of Jim Elliott, a South American missionary.
So…will Baby Spurgeon be known as "Spurge" for short? (No, seriously…will he? Does anyone else think that sounds like a bodily function?)
Baby Spurge joins Jill Dillard's son Israel on the list of oddly named Duggar grandchildren. (Josh Duggar's four children have relatively "normal" names– Mackynzie, Marcus, Michael and Meredith.)
Anyway, it's clear that Jessa and Ben are thrilled with Baby Spurge.
"He's a precious little bundle of joy," Jessa said. "We're so blessed to call him ours!"
The Ashley still thinks they should have gone with her name suggestion and called the baby "Ben Bob."
Watch Ben and Jessa announce the baby's name below:
(Photo: YouTube)