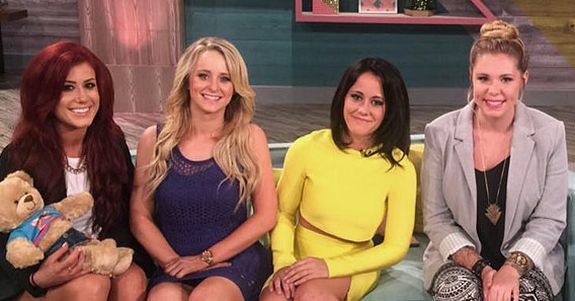 This has been quite the week for Teen Mom 2 news. Numerous media outlets have been on a post-binge, writing stories about the cast of the MTV hit reality show.
The problem?
Most of these stories aren't true.
The Ashley decided to do her best to debunk the latest 'Teen Mom 2' rumors (and confirm the ones that are true) for y'all because wading through the muck of stories can be exhausting. As faithful readers of The Roundup know, The Ashley does her own research and consults with her very good 'TM2' sources before posting her stories, so rest assured that her info is accurate.
Let's get started!
Rumor #1: Kail & Javi are getting a divorce.
FALSE. This rumor started after Kail and Javi both posted to social media about having a rough day yesterday. Of course, fans following them on social media automatically assumed that the "bad day" posts confirmed that the couple was divorcing. The Ashley's source tells her this is just not true. The posts made by Javi and Kail yesterday had nothing to do with divorce.
The couple is in a pretty good place, actually. Javi is accompanying Kail to Los Angeles tomorrow to attend her book launch for Love is Bubblegum.
Rumor #2: Corey Simms "stole" his daughter Remington's name from his ex-girlfriend & Leah was trying to stir up drama about it.
FALSE. This story was circulated by Radar Online yesterday. The article claimed that Corey came up with his daughter Remington's name by looking at his ex-girlfriend, Amber Scaggs' Facebook profile. (Corey and Amber dated for a few weeks back in 2011 after Corey's divorce from Leah.)

The Ashley can confirm that Amber, who is now married herself, does have a daughter named Remington. However, The Ashley's source tells her that the couple had talked about the Remington years ago, and that it was actually Miranda who first suggested it.
"It's actually a pretty popular name in the area that they all live in," the source told The Ashley.
Radar originally reported that it was Leah who brought the baby name to Amber's attention. This is not true.
Fans assumed that it was Amber who sold the story to Radar. This is not true, either. The Ashley's sources tell her that it was allegedly someone in the former Mrs. Simms' camp that actually cashed in on the story and sold it to Radar.
"Corey has no relationship with Amber at all," the source told The Ashley. "He hasn't seen or spoken to her in years. There is no story there; anything circulating is just an attempt to stir up fake drama."
Rumor #3: Leah Messer is suicidal.
FALSE.  Radar Online busted this rumor out today in an article that stated that Leah is "deeply depressed" over losing custody of her twins and other issues. The site claims that Leah's friends and family are worried that she'll kill herself over the devastating loss of Ali and Aleeah.
Leah decided to extinguish this rumor fire herself a few hours after the article was published.
"Articles that are sent to me are unbelievable ! I am far from being suicidal because my girls need me happy and healthy ! #craziness," she tweeted on Thursday afternoon.
Rumor #4: Money is missing from Leah's twins' bank accounts and Corey's taking her to court over it.
FALSE…mostly. The Ashley posted about this story, but clearly told readers that it was simply a "report" until she could confirm it. The Ashley spoke to someone in Corey's camp who told her this:
"Corey has not taken any action at all against Leah. He has no idea where this story came from and does not have a court date set up to discuss the issue."
The source did tell The Ashley that the part of the story that discusses the twins' missing money is true, however.
"Currently, Corey doesn't know where that money is," the source said. "He has not been able to locate it yet." e: This section has been updated since it was originally posted to add in new details.)
Rumor #5: Corey and Miranda Simms are "on the edge" of divorce.
FALSE. No, this is not true. No, Miranda isn't about to divorce Corey over the baby name rumor, or anything else. The Ashley's sources tell her that the couple is doing better than ever, following the birth of Remi.
(Photos: MTV)