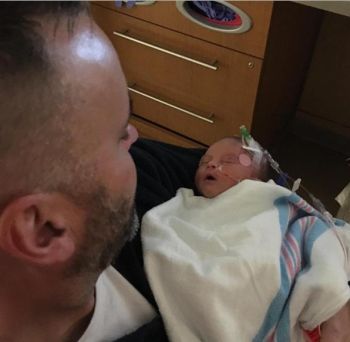 Teen Mom 2 stars Corey and Miranda Simms got an unexpected surprise last week when Miranda went into labor with their daughter, Remington, two months before her due date. Baby Remi was born last Sunday, November 8, weighing in at a tiny 4 lbs. 11 oz. at birth, and measuring 17.5 inches.
Since Remi's birth, 'Teen Mom 2' fans have awaited news on the premature baby, who was supposedly due on January 1. This weekend, Corey's father, Jeff Simms, finally gave fans an update on Baby Remi via social media. (Corey recently deleted his Twitter account, while Miranda's has been untouched since Remi's arrival.)
"Remi is doing very well," Jeff tweeted.
Later, he revealed that Remi is still in the NICU (Neonatal Intensive Care Unit), but that he was able to hold his newest granddaughter for the first time yesterday. (He is already grandpa to Corey's twin daughters Ali and Aleeah.)
Jeff posted a photo to his Instagram account of the happy moment.
"She has some of her mommy's features but I agree she looks like Corey and Aliannah," he told a fan on Instagram.
Jeff's wife, Joetta, also posted a photo of the moment yesterday that she finally got to hold Remi.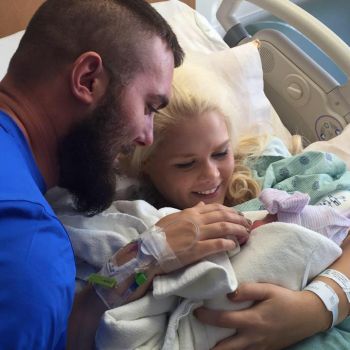 "She is so precious. Love her bunches," Joetta wrote. "Three beautiful granddaughter's Ali, Aleeah & Remington, my heart overflows with LOVE. It's so awesome to be their NANA."
Although Remi is still in the hospital, Joetta stated that she may not be there for very much longer.
"She is in the NICU, but hopefully she will be going home soon," she tweeted.
It is not known if Ali and Aleeah, have met their baby sister yet. However, Remi is not the only baby to recently come into their lives. Earlier this week, Kayla Roush, the best friend of the girls' mother, Leah Messer, gave birth to a baby boy named Wilder. Kayla has been like an aunt to the twins since they were born, and she posted a photo to her Instagram of Ali holding Baby Wilder last night.
Leah has not yet commented publicly on Remi's arrival.
(Photos: Instagram, Facebook)