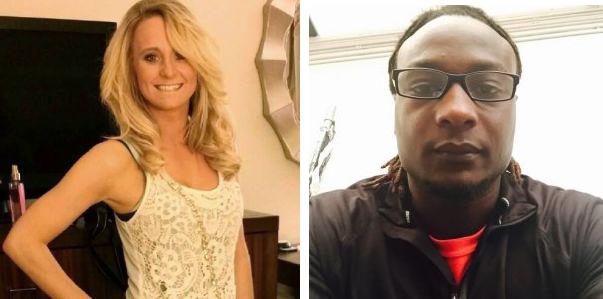 Leah Messer has tried her best to keep her relationship with T.R. Dues on the downlow, but it appears that the Teen Mom 2's rebound romance is getting quite serious.
Over six months after their romance began, things are still going strong between T.R. and Leah. In fact, a source tells The Ashley that T.R. and his two young sons are "considered to be part of Leah's family" at this point.
Leah started dating fitness trainer T.R. back in May, around the same time as her divorce from second husband Jeremy Calvert was finalized. She has never publicly admitted to being in a relationship with T.R., and even flat-out lied during the filming of a Season 6 "Closer Look" segment in July, stating that she was totally single, even though she had been in a relationship with T.R. for several months by that time, and he had accompanied her to Los Angeles to film the Season 6 reunion! 
"I just went through a divorce," Leah said during the segment, conveniently forgetting that her new boyfriend was in her hotel room at the time of the taping. "Let's play it smart this time. Let's not jump into anything."
It doesn't appear that Leah has taken her own advice. T.R.'s sons are about the same age as Leah's children, and are often brought to Messer family events. In fact, they were recently included in a tree-decorating event at Leah's grandma's house, along with the other kids in the family.
It is not yet known if T.R. will be introduced on the upcoming season of 'Teen Mom 2' or if he will be "forgotten" about again, as he was last season.
While things may be going well with T.R., a recent tweet by Leah made it seem like she may sometimes miss what she had with ex-husband Corey Simms.
"I got the boy and she got the man," Leah tweeted on November 23.
The quote, which comes from a country song by Jana Kramer, seemed to be aimed at Corey's current wife, Miranda Simms. Leah tweeted the song lyrics around the time that Corey and Miranda were in the news after they welcomed their baby, Remi, into the world.
Leah's sentimental tweet didn't set well with her current boyfriend, T.R., however, judging by his response.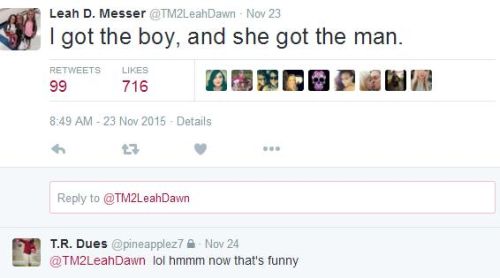 (Photos: Twitter, Facebook)